It was a gloomy looking Saturday with the promise of gentle sunshine and booze. It was time to hit London for a bottomless brunch.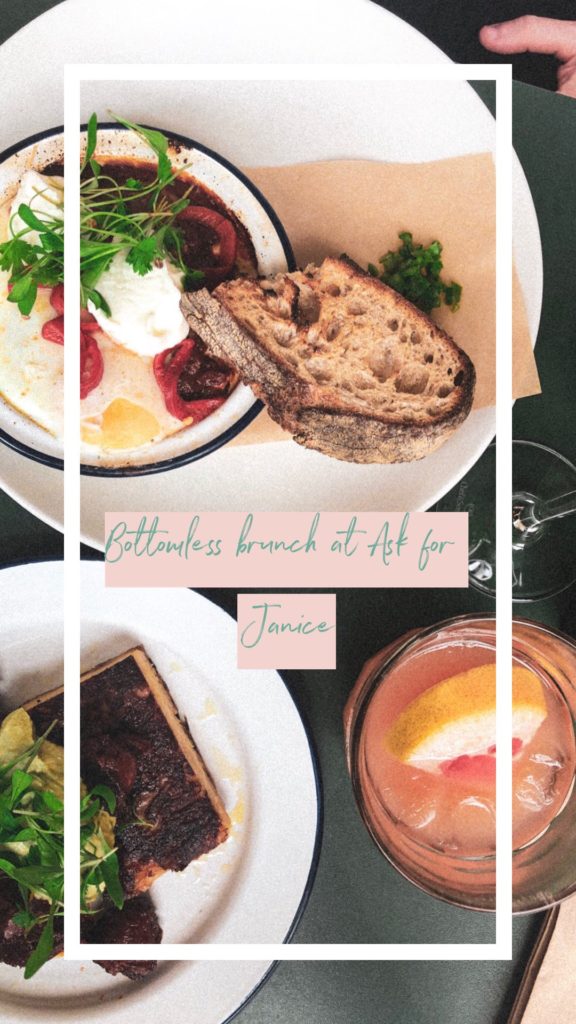 With no time to enjoy a slow lazy morning as the presence of an 11.45 brunch reservation was hanging in the air, we headed to East London hungry, thirsty and excited. And believe me, I am not a morning person that gets easily excited.
My mission was simple: find one of London's best bottomless brunches. Book it. Booze it. Not gonna lie, took me hours of research until I finally decided to go for this little beauty tucked between Farringdon and the Barbican stations.
Ask for Janice has quite the attractive offering: you rock up here on Saturday and for £35pp you enjoy a completely bottomless brunch (£25pp without booze, each to their own). That is, your glass will be constantly filled up and you can choose from a plethora of small plates to keep you full in between the glasses. So here, both food and drink is unlimited, however, three dishes per person are recommended – and they're more than enough. The portions are made for sharing, yet, I would say they are quite generous. The products are all seasonal and the atmosphere is all sociable.
The booze? Choose between three cocktails: Bloody Mary, Bucks Fizz or Salty Dog. I started with the dog but kept going with the fizz. And going, and going…
Best of all, you really don't have to remind the waiting staff to top up your drink. At Ask for Janice they effortlessly mingle amongst the tables carrying a jug of delicious cocktail each, ready to top you up while you blissfully enjoy your brunch-time gossip. That does mean you can easily end up quite tipsy without realising…as did I, naturally. Here is where I feel I should probably say – don't forget to drink responsibly. This is still a brunch spot, not your back garden.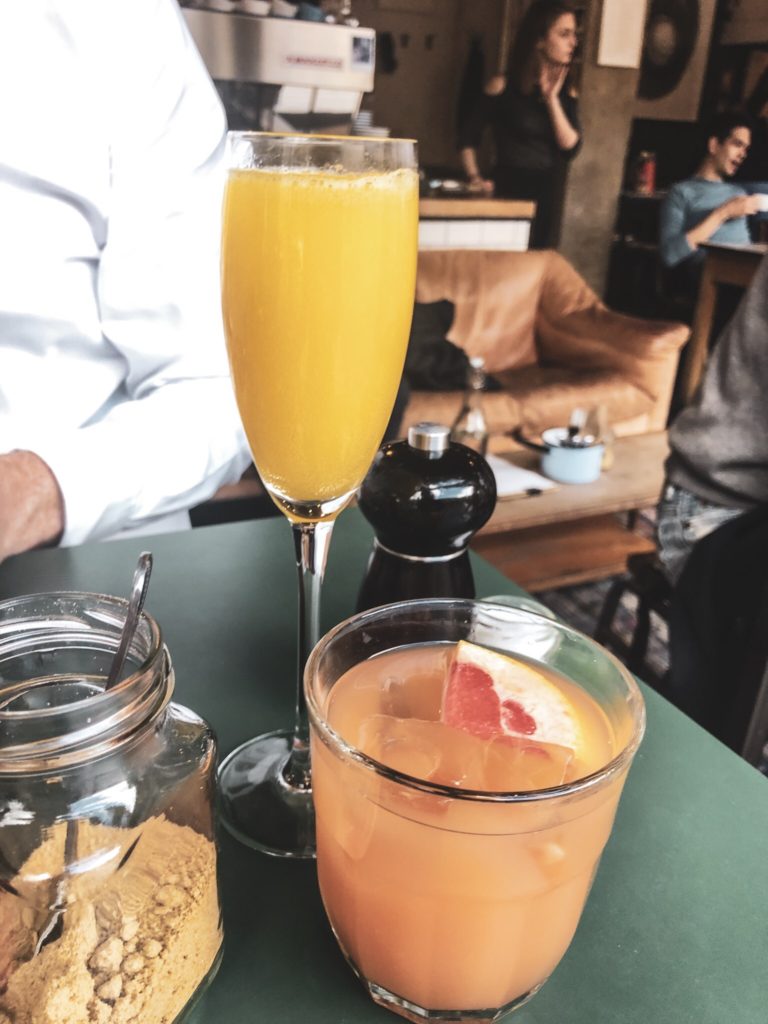 The food? Well, my darlings, we've got ourselves a winner! The choice on the Saturday brunch menu is quite varied including traditional favourites such as avocado on toast, hash browns and bubble and squeak. But you don't just get your average brekkie. At Janice's the avo is on rye and generously covered in crumbled feta; the hash is delectably buttery and accompanied with slow cooked chorizo; the baked beans are infused in AFJ Bloody Mary and complimented by horseradish cream. Reader, every dish is a dance of flavours that will tease your tastebuds one orgasmic bite at a time.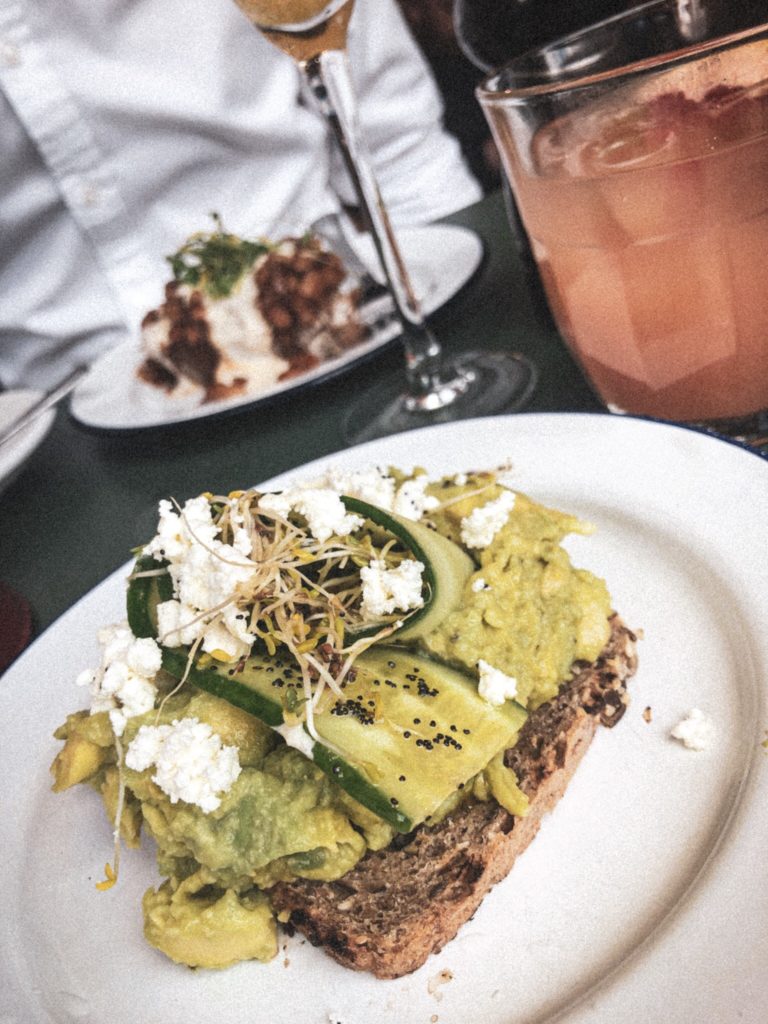 I started with that avocado on rye and (considering I've indulged in quite a few avos on toast in my life – I genuinely love this stuff, so sue me) this was one of the best ones I've had. What about it blew me away? The gentle seasoning and the freshness from the shaved cucumber balanced the richness of the rye, making the whole thing taste super light, yet utterly satisfying. This is what I want from my healthy food – fresh ingredients that don't make you crave some greasy bacon (and I'm usually guilty of that).
This was followed by the undisputed star of the show: hash brown, slow cooked chorizo, sorrel yoghurt. Oh my, oh my. It got me at hello.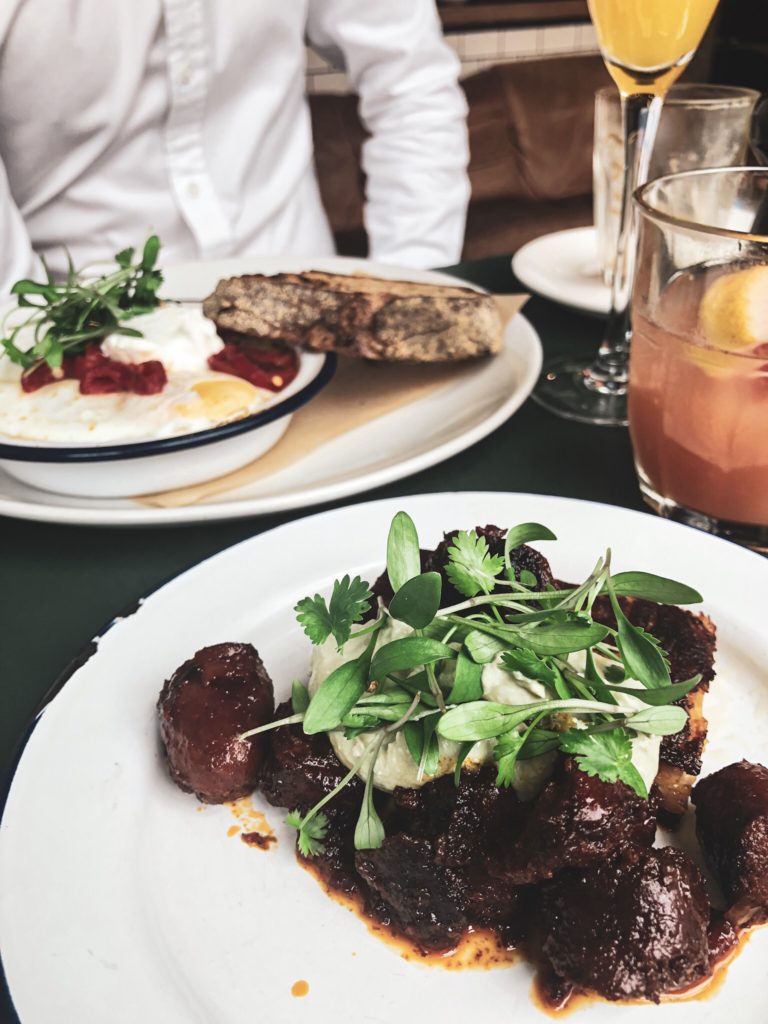 Probably some of the best hash brown I've had, or I simply can't recall a better one – which says it all really. What's even better though, is how the lightness of the sorrel yoghurt tames the spicy smokiness of the chorizo, resulting in a perfectly balanced dish that you do not want to share. Unless someone steals a bit while you're busy downing your Bucks Fizz.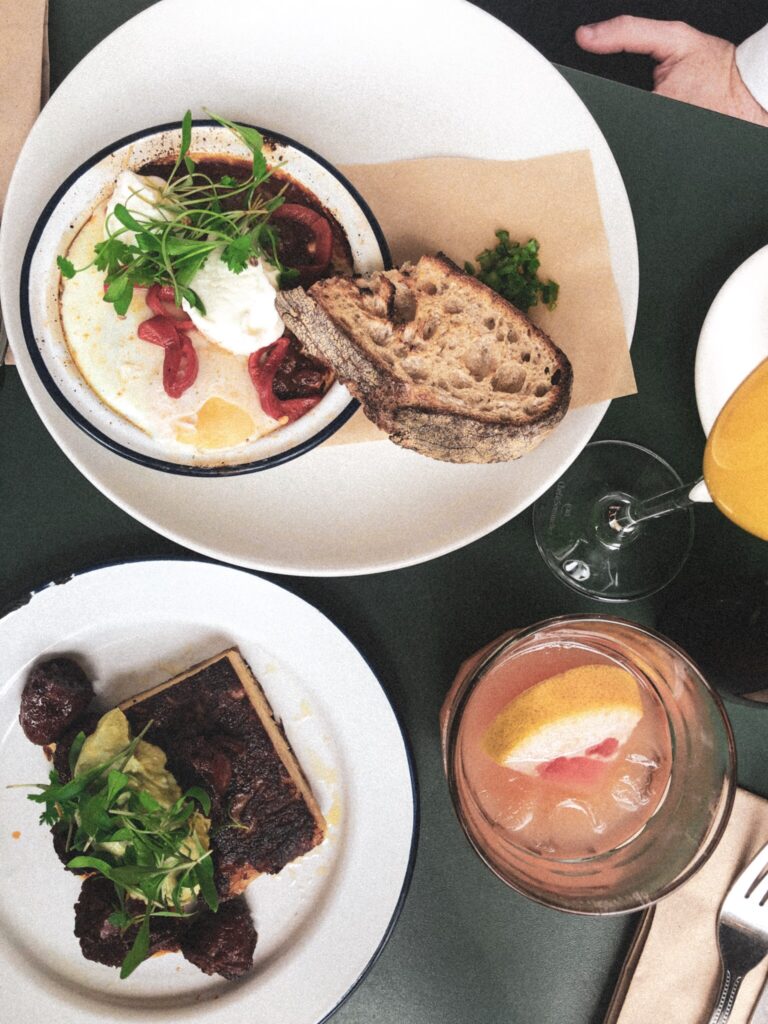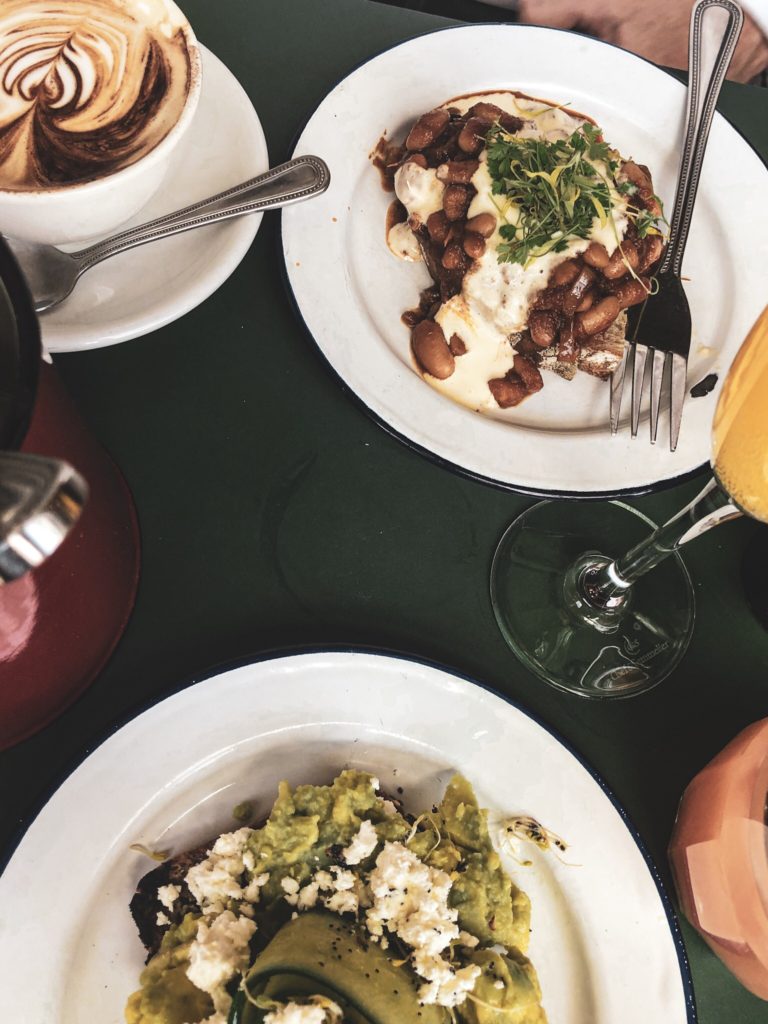 My partner in brunch indulged in the AFJ Bloody Mary baked beans on sourdough, horseradish cream and, you guessed it, I did have a bit of that too as these small dishes were made for sharing.
The Baked egg with merguez sausage, roasted peppers and yoghurt was lovely – especially considering here we've got that yoghurt incorporated again, and you really can't go wrong with a bit of yoghurt and eggs.
However, the best dish for him was the Bavette, field mushroom, bone marrow, smoked tomato – because if you're gonna do brunch, do it right. And having some steak in it is surely how you do that. At Ask for Janice the steak is cooked to perfection – mid-rare with just the right amount of pink in the middle and a bit of garnishing on top. This guy didn't need much else on his plate. It was a steak that shines on his own, overshadowing all other mentioned ingredients keeping it company.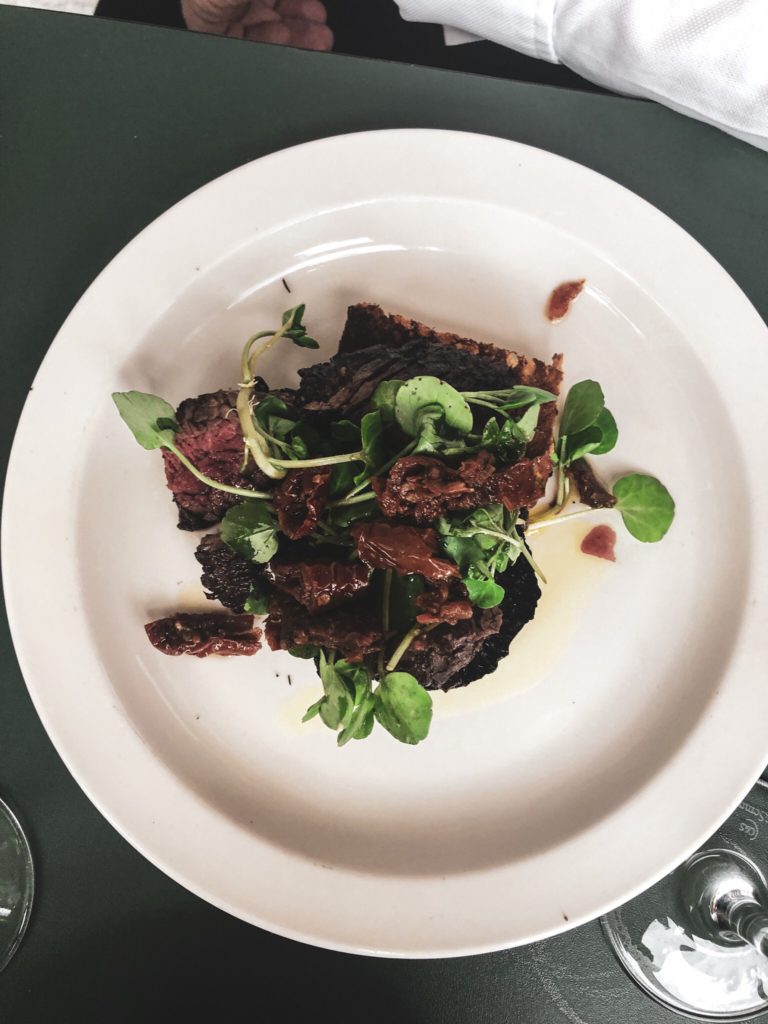 And now for my third and final choice, or as I now call it, my little disappointment, I went for the quinoa fruit salad. I know what you are thinking: you chose the quinoa fruit salad? when there was a smoked salmon hash on the menu? Yes, I was rather full at this point and I fancied a light, healthy option (to compliment my midday alcohol consumption). And yes, I'll be coming back for the salmon hash next.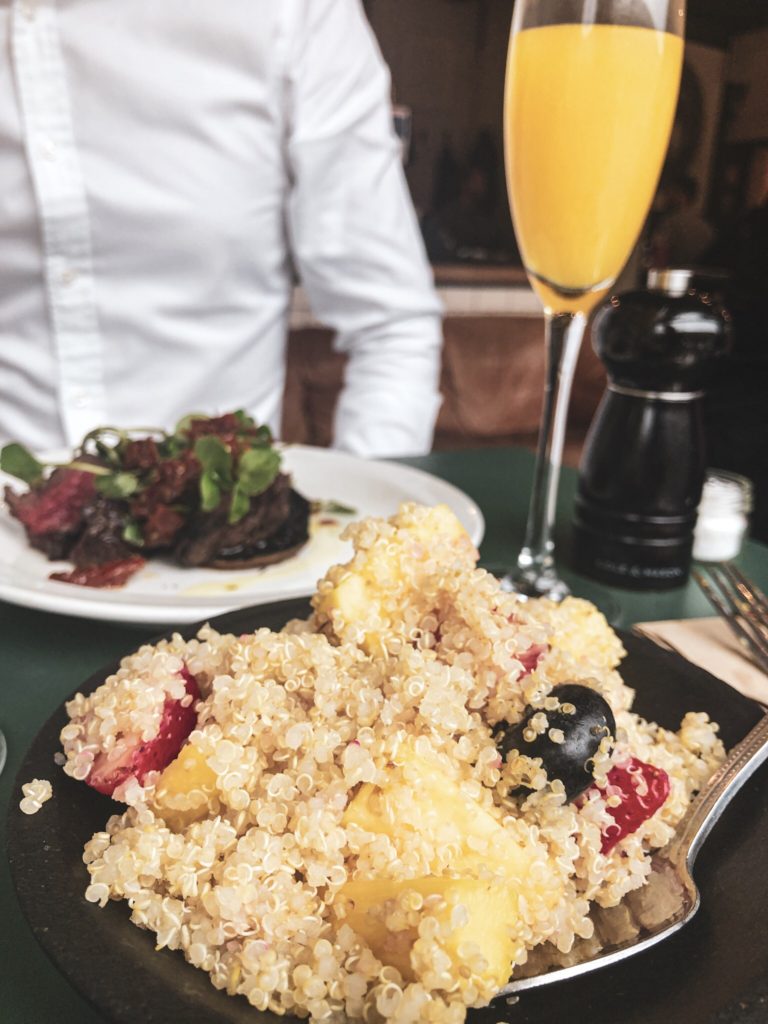 The fruit was kind of nice, you know you can hardly go wrong with it. But the quinoa felt unnecessary and quite a random addition to it even. There was nothing to bring the two together, resulting in a bland, unexciting dish. Thankfully, I had a lot more Bucks Fizz coming my way to keep me lubricated – I did tell you it was all about the balance of flavour.
One more thing. The coffee at Ask for Janice is absolutely sensational. I had an oat latte and from the first sip to the very last, I could barely look at my cocktail (not saying this lightly). It was all about that velvety taste that you get when the coffee beans are good quality and the barista is not on his first day at the job.
My advice? Just ask for Janice already.