When it comes to places to eat, Prague has a lot to offer you as we quickly discovered. So what I did was book in advance what stood out amongst the online crowd and then trust my instincts for the rest…After a short stroll around the city, you are bound to discover a place or two (or five or ten) that you simply have to visit.
We spent a long weekend in Prague…and here is exactly what we ate while we were there!
Disclaimer we were mostly in Prague to do one thing: eat. This was before anything else a food holiday. And it was, it really was.
Breakfast: Café Savoy
Whether you are in need of a rich breakfast, or like us, you managed to make it just in time for brunch, Café Savoy is sure to tick all the boxes.
We started with a warm cup of Irish coffee. Why? This was the day when it snowed. And we decided to take a walk from our stunning hotel all the way to the café, which means that what was supposed to take a mere 25 minutes, actually took an hour (yes, we did stop on the way to take pictures in the snow, we weren't just walking too slowly for the heck of it. Obviously).
As a result, by the time we turned up for our reservation, I was cold, tired and needed two things: warm drink AND some alcohol. Enter the reliable Irish coffee that conveniently mixes both. Here? It was deliciously creamy, just the right ratio of alcohol to coffee (that other places can get so very wrong).
Then we both opted for the Omelette Savoy with St. Barbora cheese (I swear, we do sometimes order different things!) and what can I say apart from this: now this is how you do omelette! Ridiculously yellow, exquisitely buttery and devilishly cheesy – there is no other way to describe this goodness. Order it and savour every single bite. Be French about it: there is never such a thing as too much butter!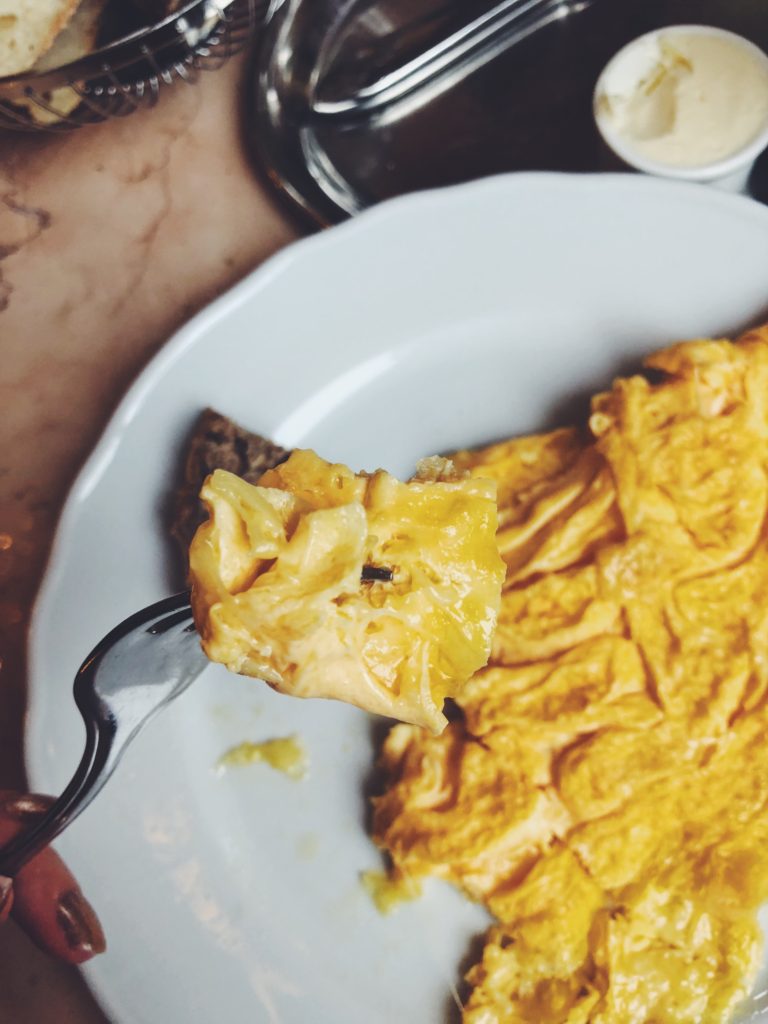 After all that we naturally shared a piece of Sacher torte – we were so close to Vienna after all. And this one was everything I wanted it to be: a chocolatey heaven that was never too heavy…or indeed too chocolatey. A generous dollop of cream masterfully put on its side just made the whole experience even more delectable. Orgasmic is the word that comes to mind.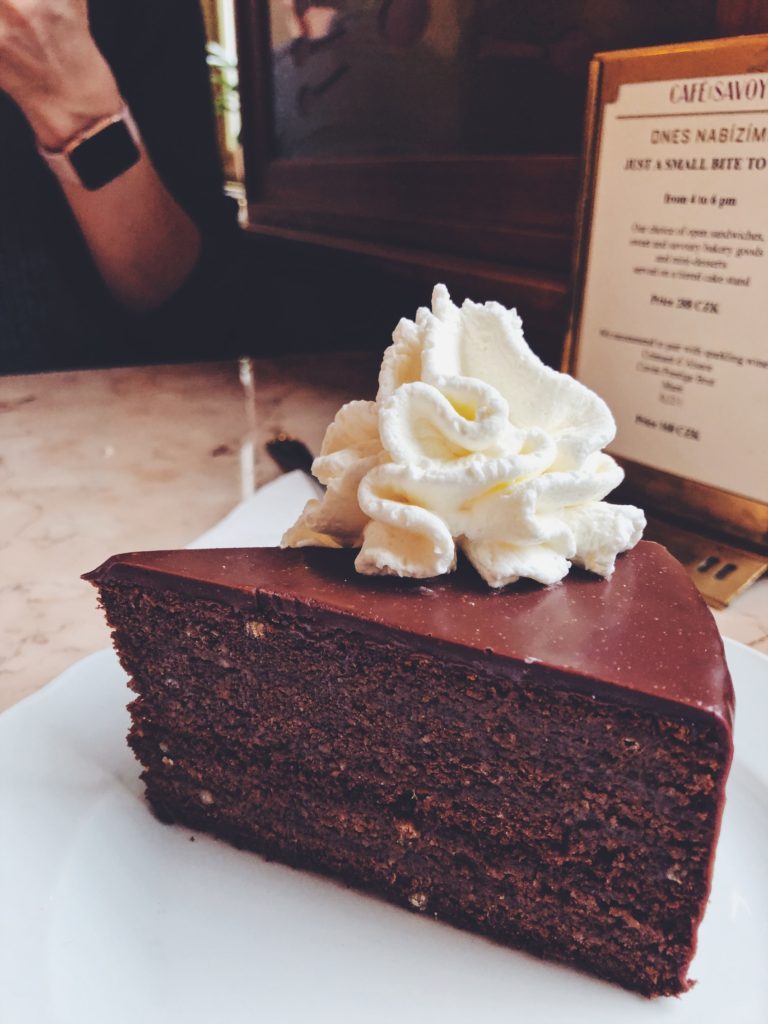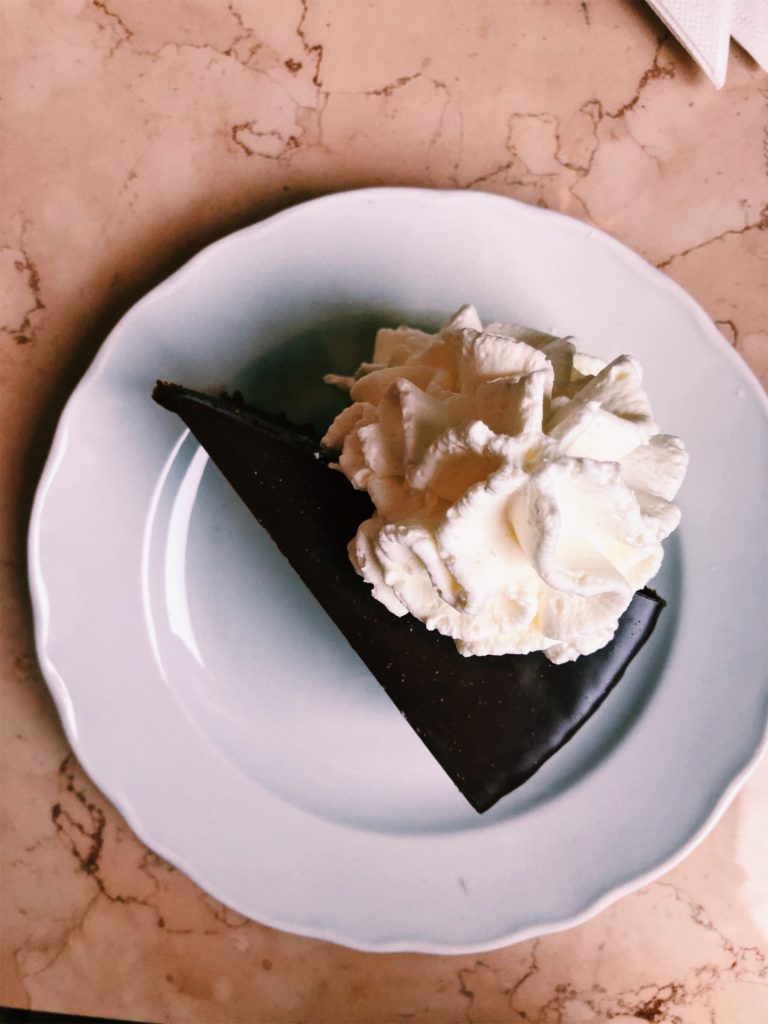 Top tip Book in advance as Café Savoy gets quite busy indeed! I mean, did you see that cake? People come from far and wide to taste this.
Lunch: Potrefená husa Platnéřská
We chose this lively, straight-to-the-point and traditional Czech eatery for our lunch based on its high TripAdvisor rating. High and well deserved. The restaurant is part of a chain, yet feels cosy and personable.
A pint of Staropramen later, we were sharing a hearty portion of pork knee with some dumplings to the side (I know, who gets dumplings with pork knee? The waiter was just as shocked). The meat was so well cooked that I can only describe it as tender, delicious and perfectly seasoned. There was nothing more I needed that wasn't already on this plate.
Perfect for sharing (unless you think you can handle it yourself?), the traditional Czech koleno is usually roasted in dark beer and herbs, and served with horseradish, pickles, and bread. Czech beer is its best friend.
Top tip Go big or go home. Hearty food is the answer when you are in need of a proper lunch in Prague. At Potrefená husa Platnéřská or otherwise.
Dinner: U Modré kachničky
Now here we are talking about proper Czech and proper good. Traditional Czech cuisine with a twist? U Modré kachničky – specialising in duck, this jewel will make your mouth water and your heart skip a beat.
Personally, I do know I made the waiter slightly uncomfortable with my gentle, yet quite distinctive, moan every time he asked me if I enjoyed the food. I did enjoy it. He did know it. He saw it. He heard it. I felt it.
Before we dive deep into a food coma, the drink that accompanied our meal was a lovely bottle of Merlot – 2015 Gotberg to be exact. Red Czech wine? I was surprised to find out that I am indeed a big fan and there wasn't a drop left of the bottle by the time dessert came round. And now onto the food…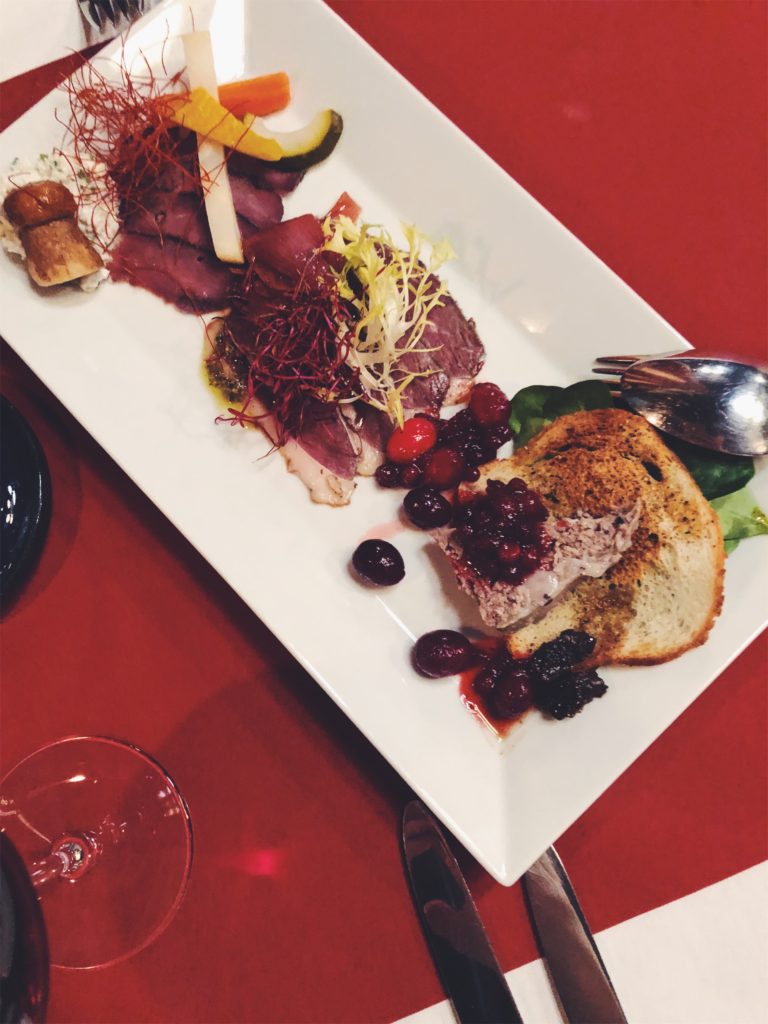 For starter we shared something that had a bit of everything (what a sentence that is!). Truly sublime. Just read this and try to stay calm: Maple smoked duck breast with onion marmalade and green pepper; wild game pâté with morels and cranberry port wine sauce; dried venison with horseradish dip and pickled mushrooms. A bit of all the good things (hello, maple smoked duck breast!) but in tiny amounts, leaving you plenty of space for the main. And oh, the mains here…
The main was the star of the show as I definitely ordered the best thing on the menu. Undoubtedly. Fact.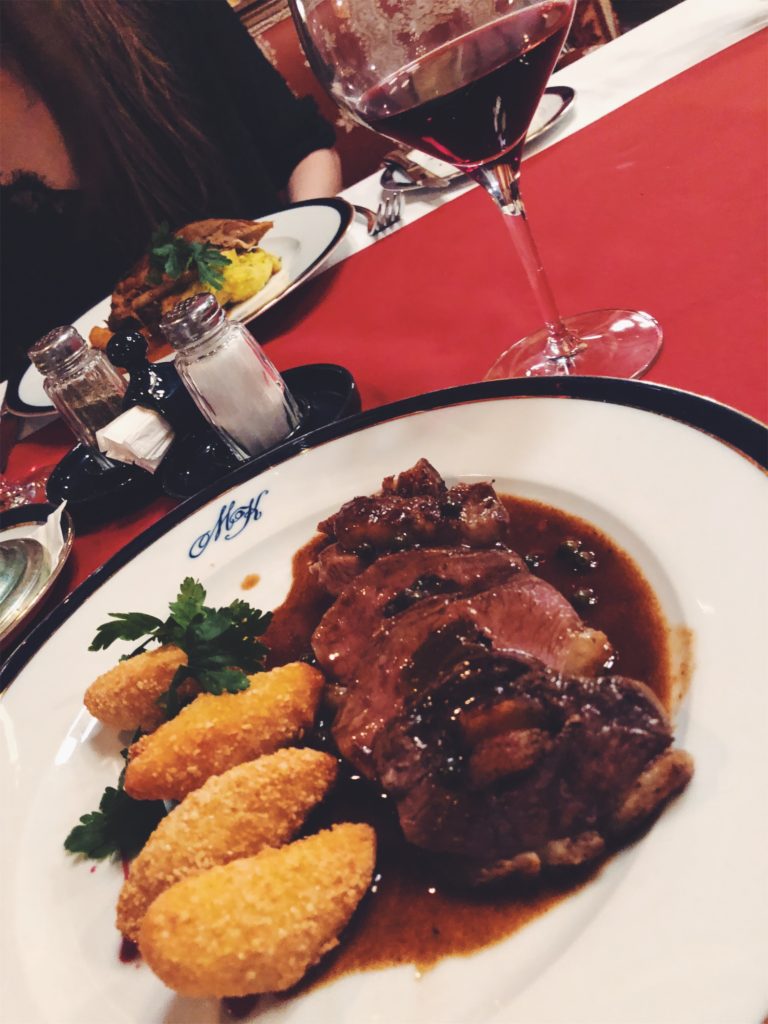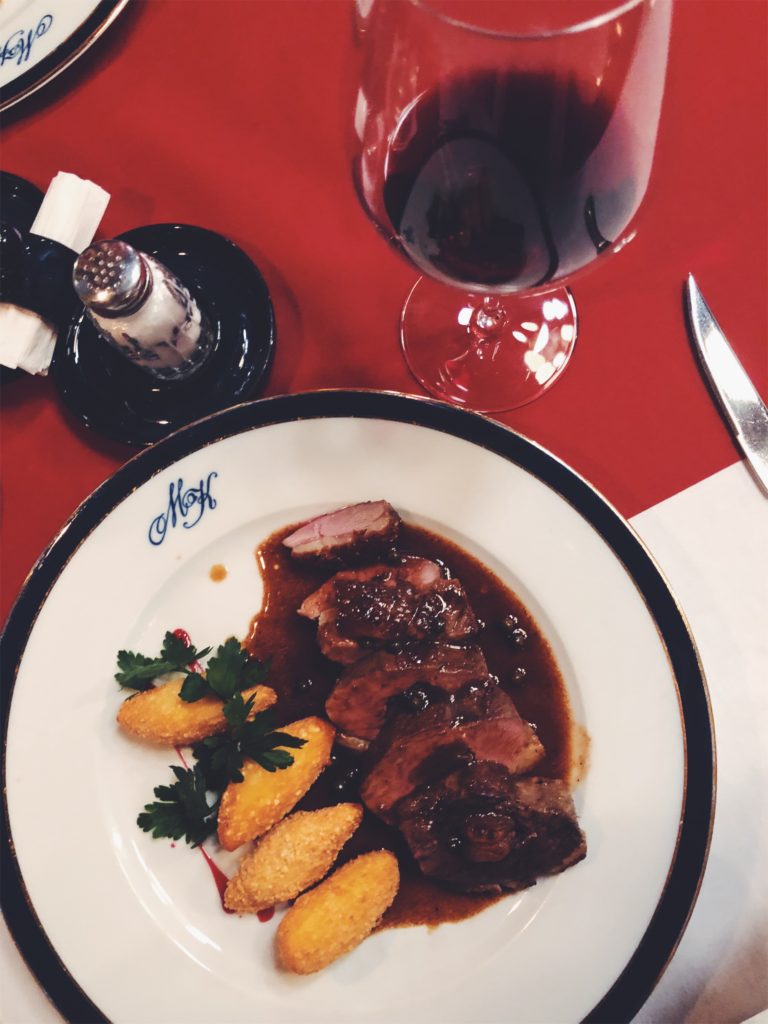 Flambéed duck breast with dried apricots, red wine and green pepper sauce, and almond potato croquettes.…that is a duck that is flambeed in front of me? Yes, please. The show was great and the flavours were worth it. And in case you were wondering, the spirit that flamed my duck was traditional Czech. This was duck cooked to perfection with a pink centre, and potato croquet companions to the side. Tender and full of flavour, this was the best duck I've had…and I've had a lot of duck.
Come desert, I wasn't ready to let it go. So I ordered another thing set on fire, this time in the form of a crepe. At this point the waiter suggested I was there just to enjoy the show (well he wasn't wrong but I also do like a bit of passionate cooking…pour some alcohol, find your flame, set it all on fire, keep going and don't stop!).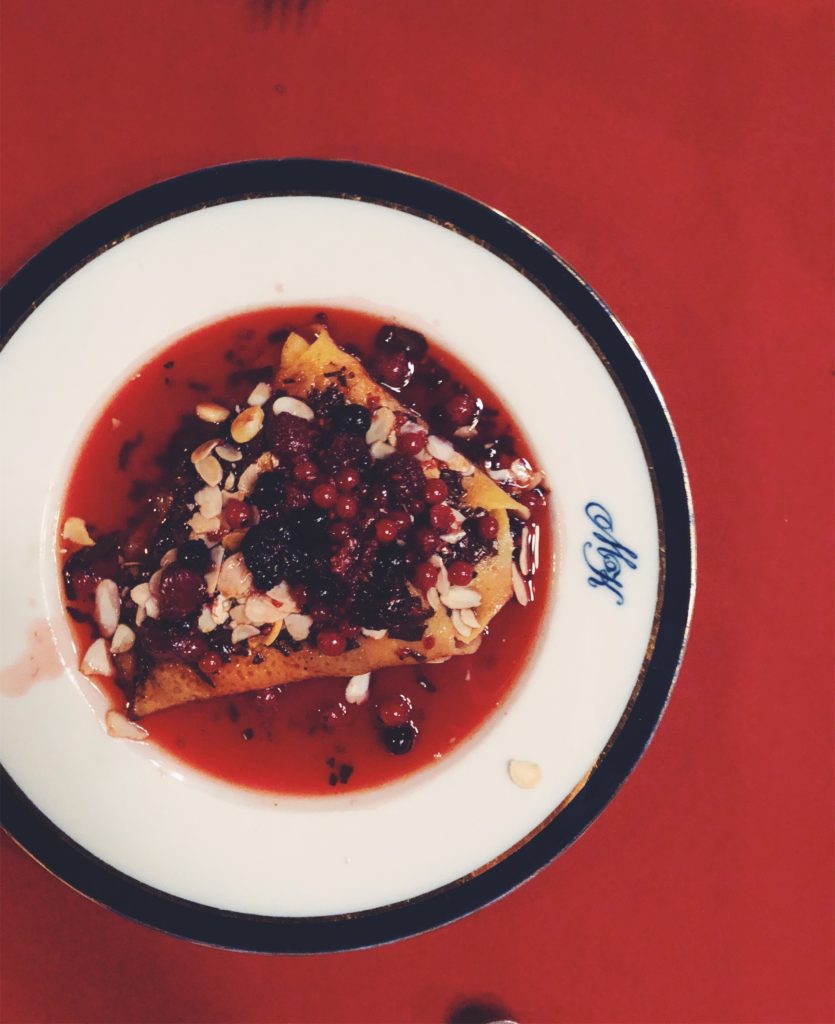 I know what you are thinking but Crepe Suzette this was not. Instead we are talking about fresh mix of berries (I also opted for chocolate and almonds as final toppings) and a thin crepe that was flambeed in some delicious Grand Marnier – if you are counting how many types of alcohol I had in this one meal, you should stop counting now.
Because I had a digestive as well.
Top tip Book, book, book. U Modré kachničky is popular amongst locals, but also comes highly recommended online so tourists flock in here as well. Service was top-notch. Another tip? Always choose fire.
Treat yourself: Zdenek's Oyster Bar
Not the first thing to spring to mind when thinking about Prague, but oysters might just be the thing you need.
We were aimlessly wandering about the city centre, when some delicious smell picked our attention. We gazed in its direction, we followed it eagerly and sure enough we saw an intriguing looking restaurant. Zdenek's Oyster Bar? Go on then.
After a quick TripAdvisor check we were hooked. Another 30 seconds and I had booked a table for the following evening.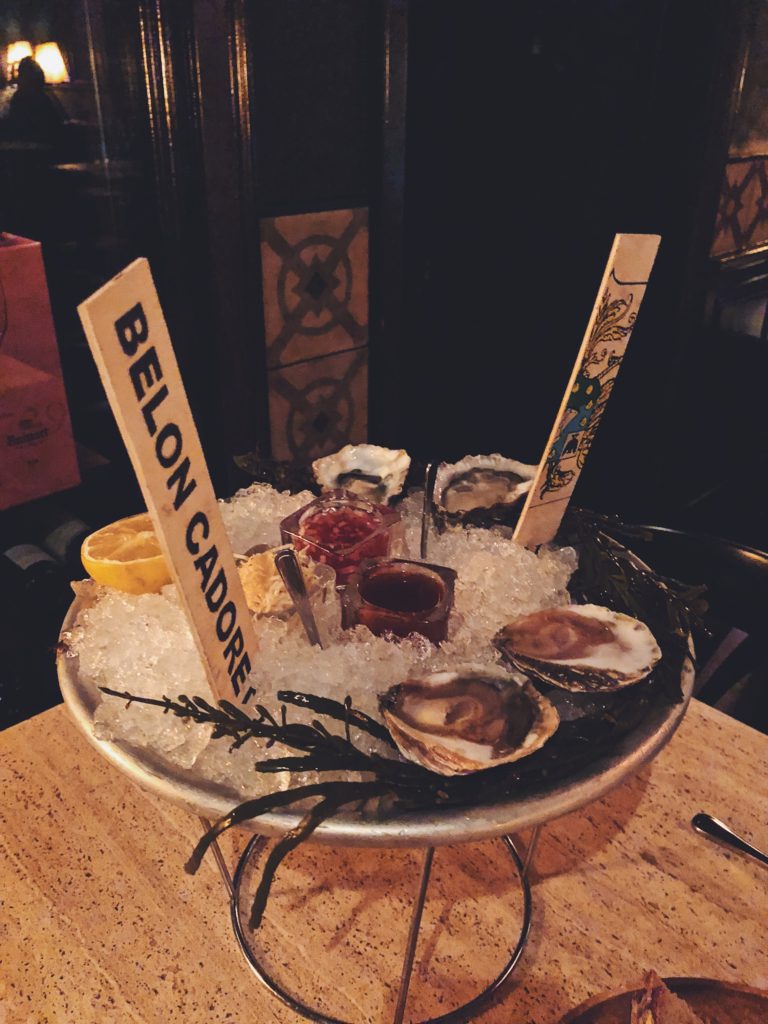 We went for two types of (you guessed it) oysters, a glass of Bollinger each and followed up with one of the daily specials – what I can only describe as some thoroughly enjoyable moules cooked in (spoiler alert, it is alcohol again!) white wine.
Desert was just as delectable and suitably small and exquisite in shape.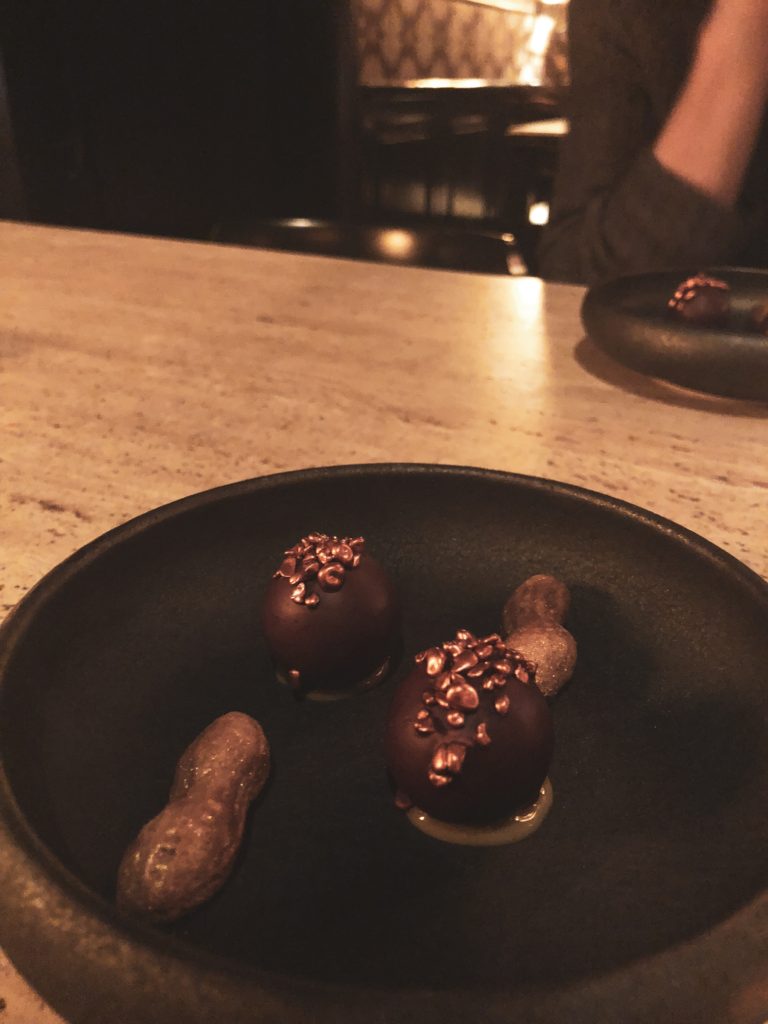 Top tip When at Zdenek's you have to take your time and enjoy the finer things in life, these being oysters and champagne. Everything else can wait.
To sum up our Prague foodie holiday?
When in Prague, your food might well be cooked in alcohol – and it will taste all the better for it. But this should surely come as no surprise, for the Czechs are amongst the biggest alcohol consumers in the world! Turned out to be lovely people, too, still wondering if the two are somehow connected…