At just over a hundred pages, Bonjour Tristesse is a delightful petit four of a novel. Short yet filled with substance – darling, size really doesn't matter when we talk about this sort of quality writing.
Francoise Sagan's Bonjour Tristesse centres around story with a modest premise masterfully released with a natural flair. A girl, a father, an affair that is swiftly moving towards a marriage. Our young girl on the brink of womanhood is bound to be irked by that, her emotions at this age at the centre of the universe; her passions far greater than her ability to control them.
Tale as old as time, perhaps, but writing as fresh French as it gets. And this is where things get spicy.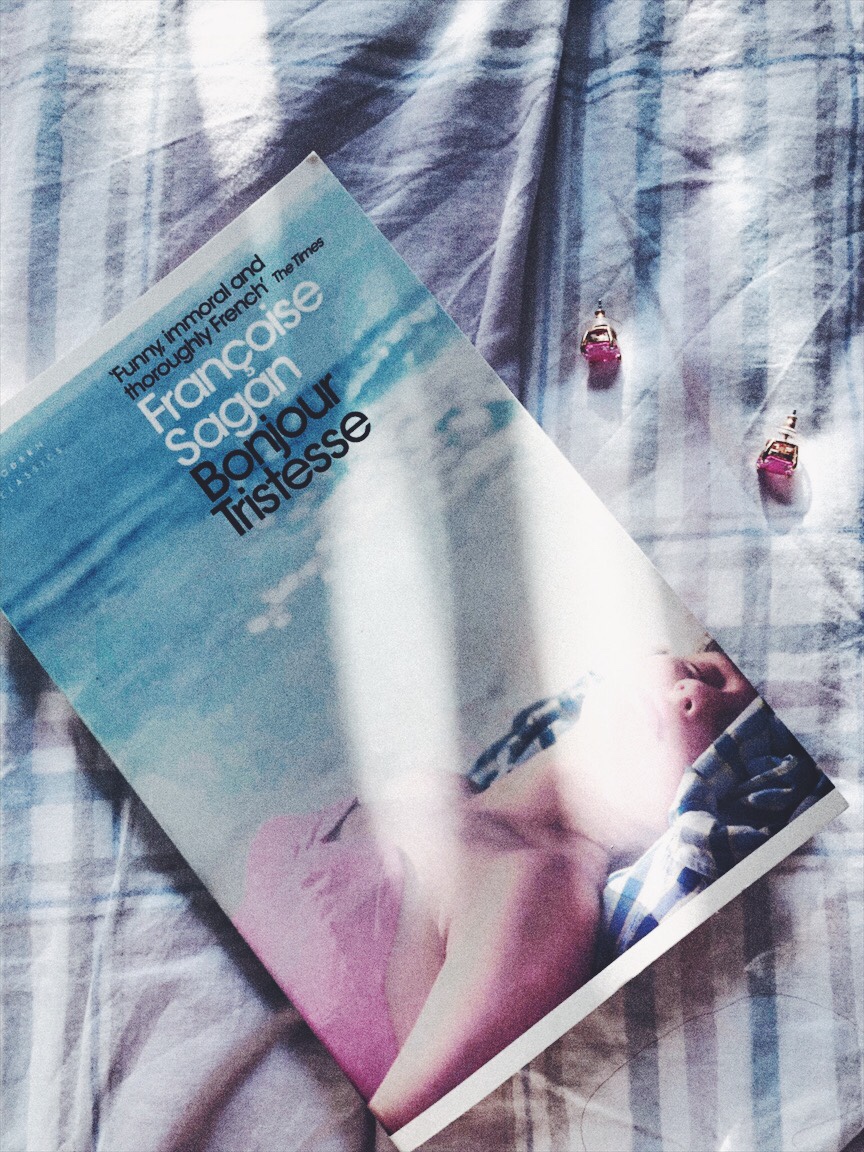 Francoise Sagan's debut novel was sexually charged and sensual – something which, as you can imagine, was once (not that long ago) frowned upon at best, and censored at worst. Thankfully, the British translation I got my hands on (pictured) doesn't spare the sensual detail – rejoice for Bonjour Tristesse has finally managed to cross the Channel without leaving her French self behind.
This particular edition also consists of Sagan's second novel, A Certain Smile. Well isn't this one a treat in her own right! Some might say I even enjoyed it (dare I say?) more than the first one.
Both stories are pretty tight, and while Bonjour has quite a clear ending, A Certain Smile has a certain unfinished feeling, you can easily request more: more information, more detail, more of what's to come and even more of what's already past. Some might call it an abrupt ending, I think it was just enough. We don't like novels that are a drag, do we? And you certainly can't say that about any of Sagan's. Straight to the point and exquisitely written, no wonder she is compared to Fitzgerald – there is no word used in vain in this signature effortless prose, where you can find a deeper meaning within a seemingly simple paragraph. Tight language and kisses at dusk. Simplicity at its very best.
And most of all, these are the kind of novels that can bring you a completely different feeling based on the age you read them at.
Sagan wrote Bonjour Tristesse at the delicate age of 18, making other 18-year-olds' writing feel grey and prosaic in comparison. The protagonist is 17 and such a good depiction of this age this is! If anything, I can only wish I read this novel when I was still a teenager – I loved The Catcher in the Rye at the time, so I can only imagine the new levels of adoration I was going to reach with this French stunner. But I digress…
A Certain Smile, too, examines a complicated relationship, but while Tristesse is set against the heated background of the French Riviera, this one is set in the intellectual circles of Paris and mainly in the Latin Quarter (with a brief jump to Cannes, naturally). Dominique, a young girl studying in the Sorbonne, starts an affair with her boyfriend's uncle – married and significantly older, this is the quintessential French affair…Or the one we've grown up to think of. However, Dominique is not a Brigitte Bardot femme fatale, but rather carries that eponymous je ne sais quasi air about her, reminiscent of a girl-next-door (but with the shadow of an existential crisis lurking over her) wearing jeans and contemplating Sartre. Actually, both novels are filled with casual philosophical references (notable mentions also go to Henri Bergson, Kant, Alain and Camus), and it is in this sophistication where I find my guilty literature pleasure.
The language is, yet again, simply exquisite, the writing is the kind of treat we all deserve on a Sunday morning. Warm and electrifying. No extra dialogue given away, yet no hidden thought spared.
As far as petit fours go, these two might just be amongst the most delicious ones yet.