The writing flows like water on rocks. Every page turns quicker than the last like a tide taking you under.
A beautiful retelling from a female perspective that is less forgiving to the Greek heroes than the classic canon we are accustomed to. Miller tells the story of Circe – a witch, daughter of Helios, and all-round maneater. But as we follow this goddess through the centuries of her immortal and often lonely life, we get to know the more interesting side to her. We forget the divinity of ancient myths endlessly told and retold by just as ancient men, and we get to glimpse the humanity found in even the most magical of places. A female point of view just as strong as its heroine turns out to be.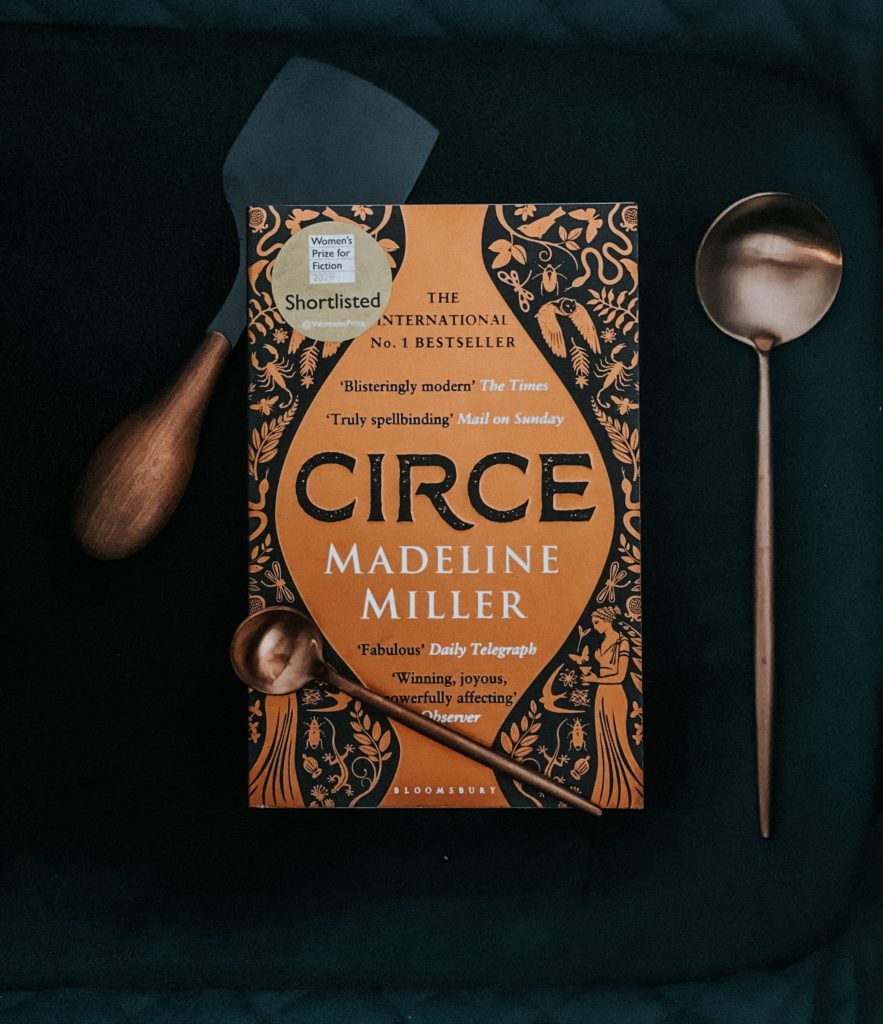 A lot of well-known characters from Ancient Greek myth make an appearance here and I loved how Cerce was the connection between them all… I loved Jason being exposed for his true intentions and even seeing more of Daedelus (whom I can't say I've been previously that enticed by if I'm being honest!)
A moment, fleeting, with Ariadne and a heated argument with Medea. But most of all, it was great to see those old gods stripped down. Olympians and Titans alike acting like spoilt children, basking in the glory of mortals who die for them, indifferent to many and obsessing over a chosen few.
Suddenly, for all their golden shine, the Greek gods look a lot less appealing, beautiful or wise. On the contrary, their wisdom evaporates in air as thin as their virtues; their beauty rendered useless in a cloud of immortal ugliness. By the end of the book, it turns out the story is a lot more about being human rather than godlike – and maybe that's better, it's more than enough.
Circe's divinity brings her more misery and pain than eternal happiness. Her only moments of love are the ones touched by a human. Even when she transforms Glaucus, the mortal man she falls in love with, into a sea god, she ends up creating a monster. Being godlike in this retelling doesn't just mean living forever, it also carries some divine ugliness – it brings out the worst in you and amplifies it. The morals of a human are erased as soon as there is no more accountability present.
In a night sky filled with Greek retellings, this star might just shine the brightest.
Circe, the witch, is the one you (I) can relate to here. A glorious, feminine (and feministic) outlook on Odysseus and all his fellow Greek heroes. Yes, of course Odysseus is still a big part of the book (it's in his story where you've heard Circe's name before, right?), but he is by no means in its centre. Not even close.
The writing is delicious. Almost too delicious. It's honey and warm bread, strawberry and mint, tea and a scone, Cretan oil from golden olives and fish bathed in fresh herbs.
Madeline Miller quickly turns into an author I can't wait to read more of. Shamefully, I'm yet to pick up The Song of Achilles, but reader, when I do, I'm certain I will devour it whole.
Have you read Circe yet and if so, what did you think?