It was the Sunday after my 27th birthday and therefore the time to celebrate this milestone with some of my closest friends. How do you celebrate on a Sunday? With day drinking and ample amounts of delicious food.

Bottomless brunch it is.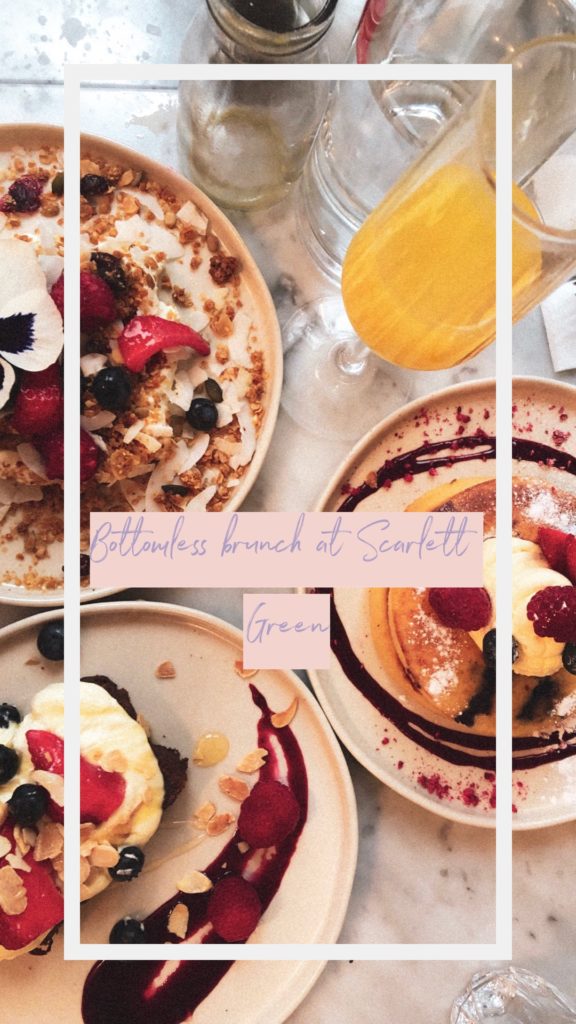 With the ridiculously rich variety of brunch spots in London, it could be quite overwhelming to choose one when you're on the hunt. However, after a few hours of browsing I made up my mind – the Aussie Daisy Green Collection it was. With a variety of venues scattered all over London, and all of them looking absolutely stunning, I knew I've found my match made in brunch heaven. Having failed to secure a table at the famous Darcie & May in Paddington, I went for the fab looking Soho location.
Scarlett is stunning. She is Australian, bubbly and inviting, beautiful and a great host. Her cooking is lovely and she is very, very generous on the drinks.
Where? Soho
How much? £39.5 per person
Includes? One savoury dish + one sweet dish + bottomless prosecco or mimosas
How long? 100 mins
When? Monday – Sunday
I booked the bottomless brunch at Scarlett Green, meaning my mates and I got a 100 minutes of limitless prosecco and mimosas. But rather than having a glass at a time, like in most places, you basically get a bottle at a time. Say what? Some might say it was my birthday…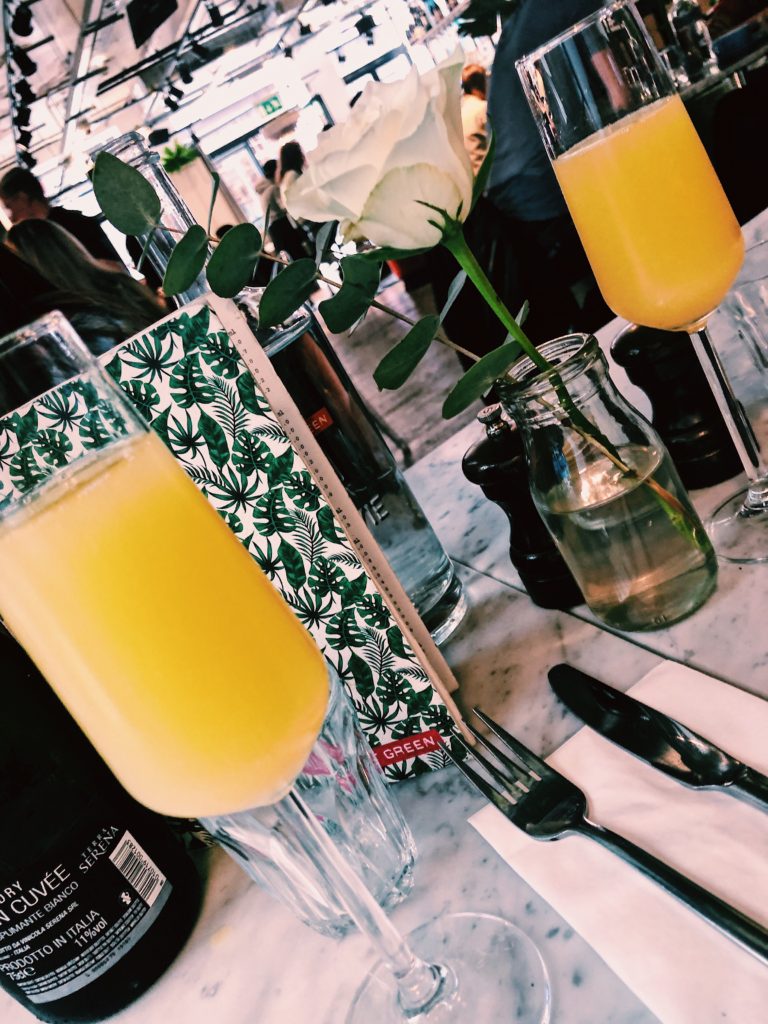 I was already sold when I saw the cute little glass bottles of orange juice allowing us to mix our own mimosas on the table… we were all absolutely hooked. And we got quite tipsy pretty quickly as our juice-to-prosecco ratio was…well, varied. A top up?Don't mind if I do.
But prosecco is prosecco and drinking is drinking, so let's get back to the food.
The queen that keeps the king in check, the one that rules the party and separates one bottomless brunch from another.
The savoury selection at Scarlett Green is absolutely great, including all the Aussie brunch dishes you'd expect. What we went for…
Shakshuka (spiced tomatoes, peppers, baked eggs, house labne, charcoal toast)
Benny Boy (parma ham, comte, sourdough, kraut, poached eggs, lemon hollandaise)
Healthy Start (celeriac toast, avocado, poached eggs, broccoli, grilled tomatoes)
Let me tell you something, this shakshuka was just the dish I needed after a night of cocktails and wine. I go for this hot beauty almost exclusively when I'm having brunch, so I've tried a lot of variations around London. This one goes into my top three. The tomatoes were brilliantly spiced, while this hotness was kept in check by the fluffy eggs baked to perfection. The charcoal toast? Might not be appealing to everyone but don't let that put you off – tastes just as good as your usual, more modestly coloured bread.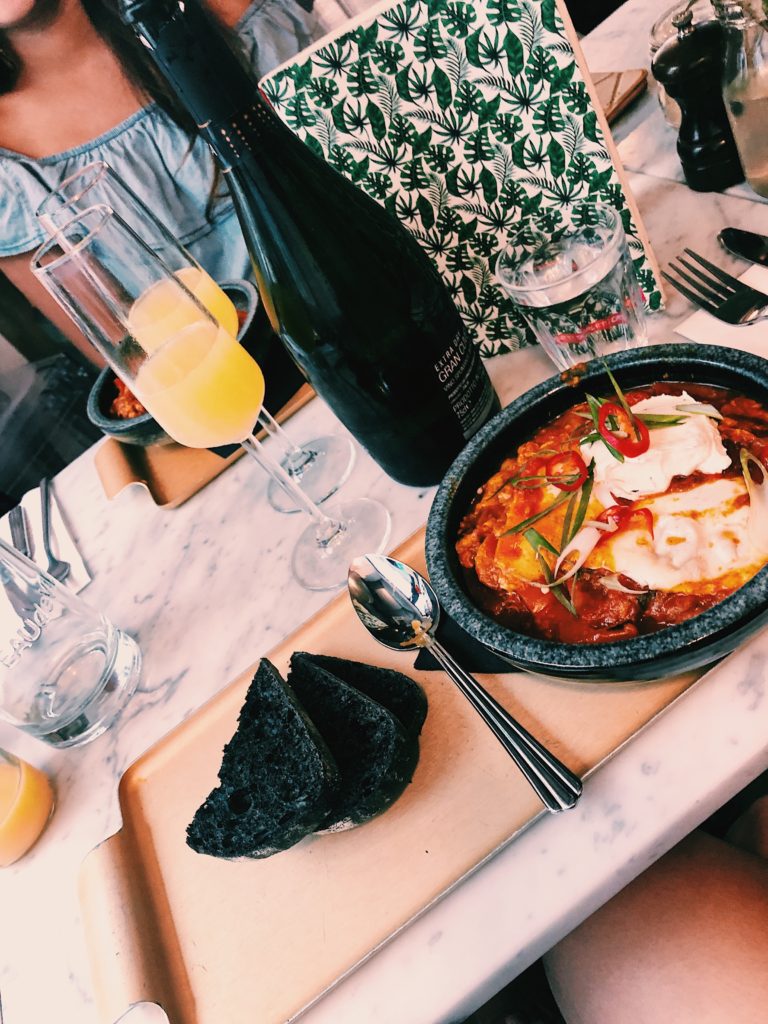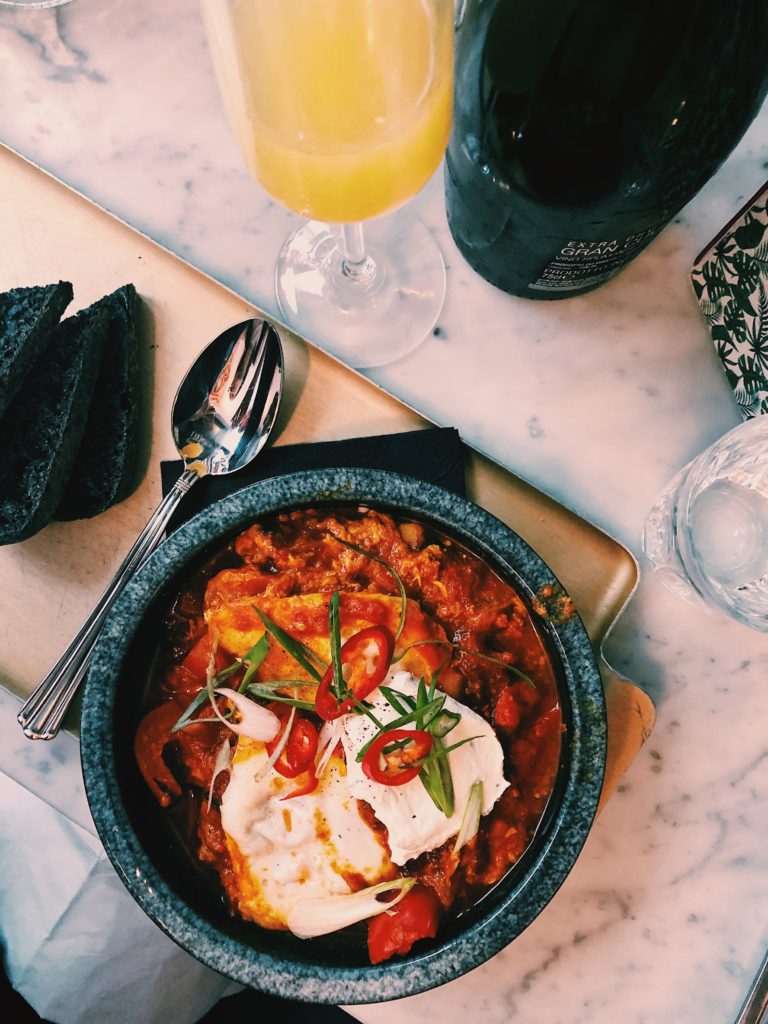 The boys loved the Benny Boy's poached eggs and the Healthy Start was not only that, but also delicious. A lovely, light dish to start with before going into the sweet options…
And here we really went all out, for the sweet menu was something else. What were our choices?
Buttermilk blueberry pancakes, fresh berries, mascarpone, pure maple
Award winning banana bread sandwich, mascarpone, fresh berries, almonds, honey
House maple granola, thick Greek yogurt, fresh berries, coconut
Pouring maple syrup over a stack of gorgeous pancakes is a feeling only measurable to the first bite you take of this said stack.
All of these? Winners.
It's hard to tell which one I enjoyed more: the pancakes or the banana bread, for they were both fluffy, sweet and utterly delicious.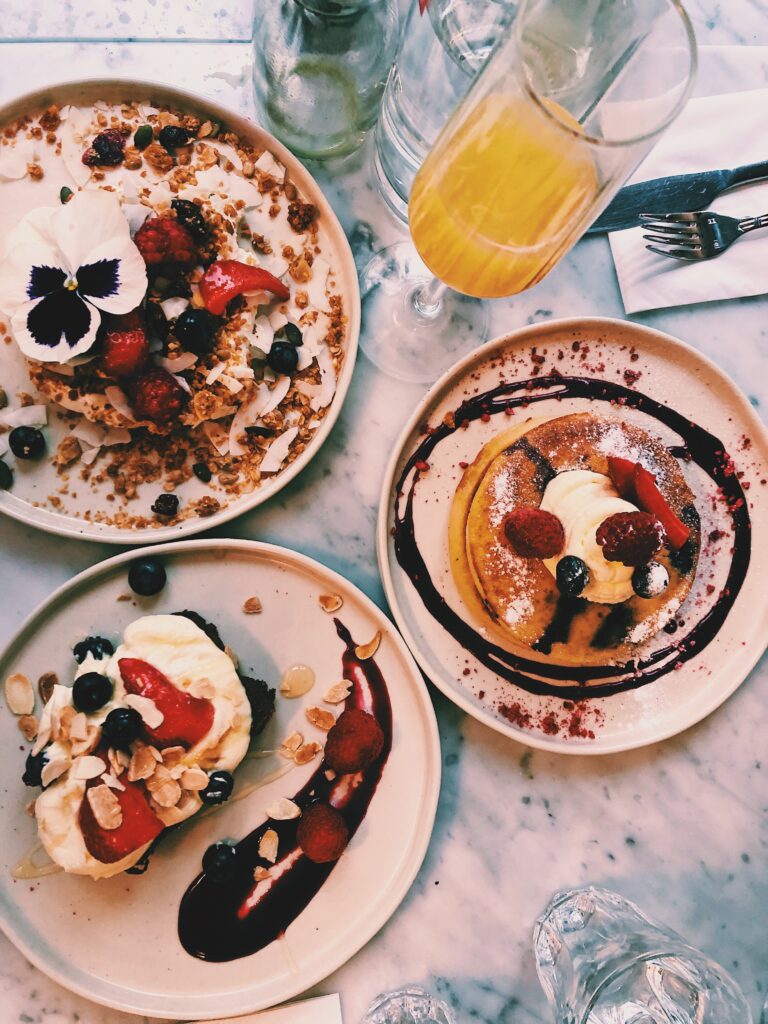 The pancakes. A delectably rich bite, taken down a notch with the freshness of the berries and the airy mascarpone. A beautiful balance of flavours that you totally need after (and during) all this prosecco-drinking.
I can see how Scarlett Green's banana bread is award winning as it's probably the best one I've ever had. How to describe it if you haven't tried it yet? Fluffy and exquisite (surely there's a limit to how much I can use the word 'fluffy' in one blog post but I am yet to reach it), absolutely heavenly. A dish perfect to celebrate one's birthday, but also something we all deserve during the weekend after a week spent in an office.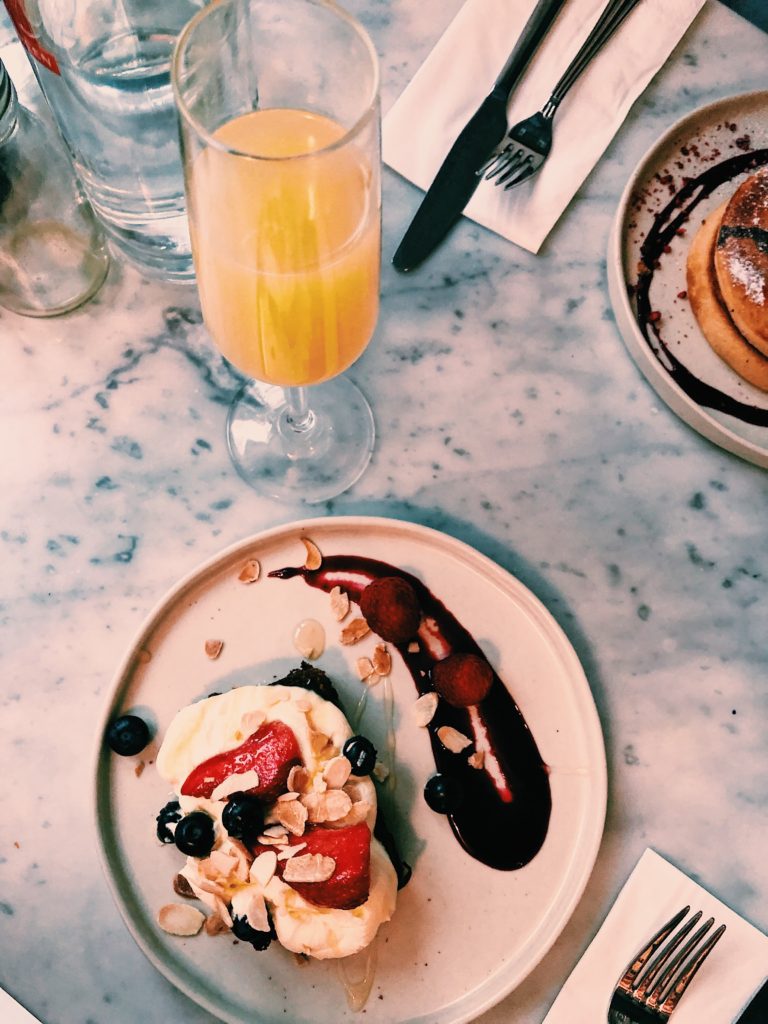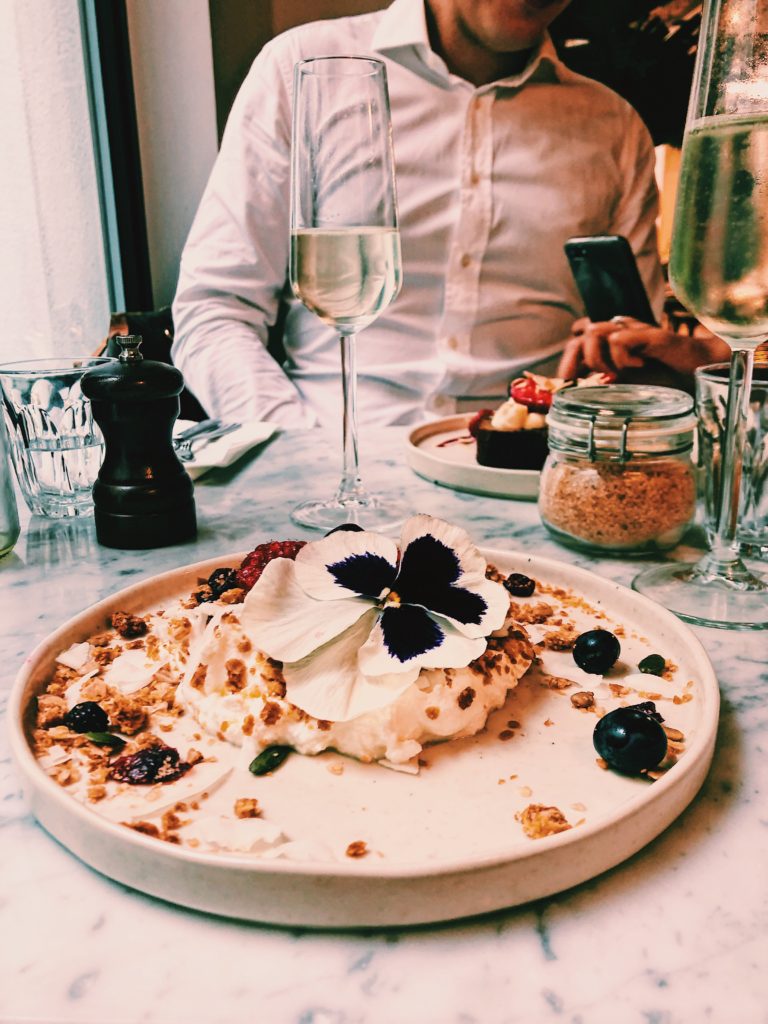 The answer to all your work-related issues, this banana bread can reduce your stress levels, cure loneliness and bring you a sense of fulfilment. Non? Just me then.
The best bit, however, was having shared both the pancakes and the banana bread – if you can't choose one, always go for both, always bring a friend.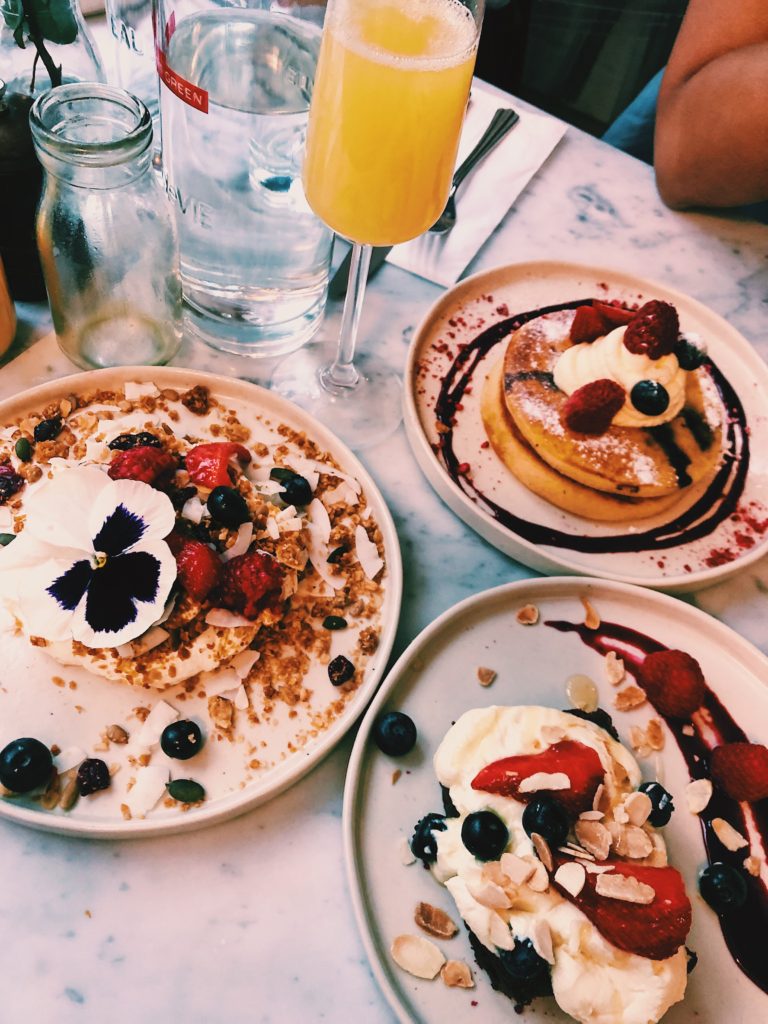 Scarlett Green is a great spot for any occasion, be it drinks after work, lunchtime gossip or, like in our case, bottomless birthday brunch. At least by London standards, the value is absolutely great – it's not often you get two generous dishes and unlimited prosecco for £40 per head, while all of it being great quality as well. The guys at Daisy Green Collection have done it again – perfection from start to finish.
And the interior is the stuff of dreams. All of a sudden you've left London and you're somewhere else…maybe Australia, maybe simply somewhere at a place unknown drinking bubbles by the ocean.