Stylish in a toned down way, sophisticated yet approachable, and very, very sexy: Orrery is a French beauty hiding in plain sight in Marylebone.
From the moment you are greeted at the door to your very last sip of gorgeous French wine, you feel well taken care of. You are in Orrery's good hands: service is almost as exquisite as the food, while the vibe is surprisingly lively for such an up-market place. Think couples lingering around for one more coffee after their meal, and old groups of friends endlessly chatting well into the night over their last glasses of wine. The restaurant might be closing soon, but you really wouldn't know it…It's like you were transported to Paris, time has frozen and you can truly indulge in some pure gastronomic delights.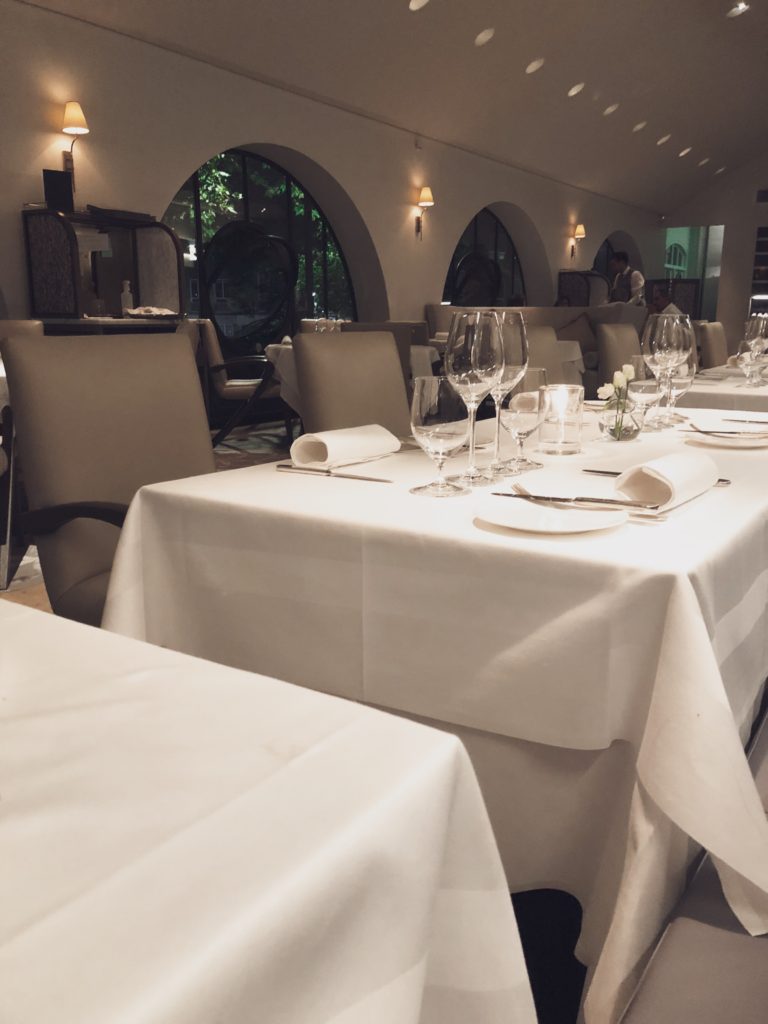 As splendid as the place itself is (all dressed in white, with the muted shine of a Chanel perfume bottle), the food is an absolute work of art. But really, it would be rude to expect anything else from a proper French restaurant.
We went for the a la carte menu, and enjoyed three elegant courses with a glass of wine each – carefully selected (with the help of the sommelier) to suit our main dishes.
I went for a French staple and one of my all-time favourites: Steak Tartare. The one here? Boasts a distinctively unique taste thanks to the welcome addition of truffles (which I also happen to adore) and finished with the most perfectly shaped quail egg on top. See picture below. True work of art.
I am in the Louvre.
My heart was won over right there and then.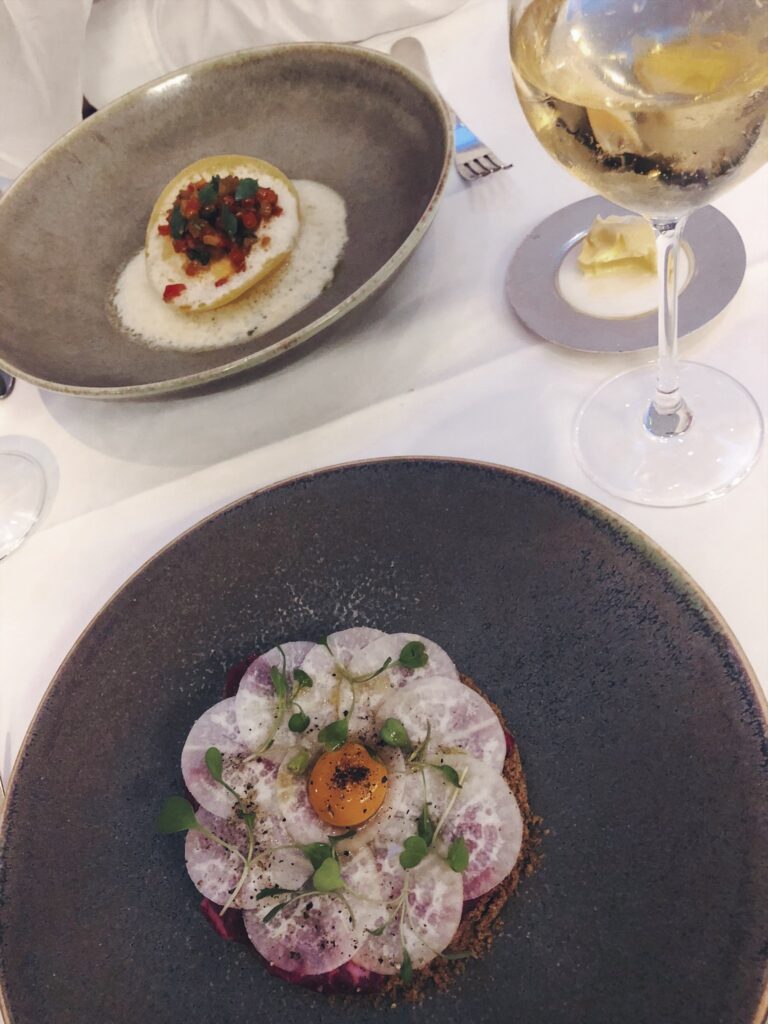 In the background you can see the raviolo. Goat cheese perfection is the only thing you need to know about it. Taste it and you'll understand.
The mains were just as impressive. While I was enjoying some of the finest seabass around, he had some of the best steak. Ever. Believe me, I tried it.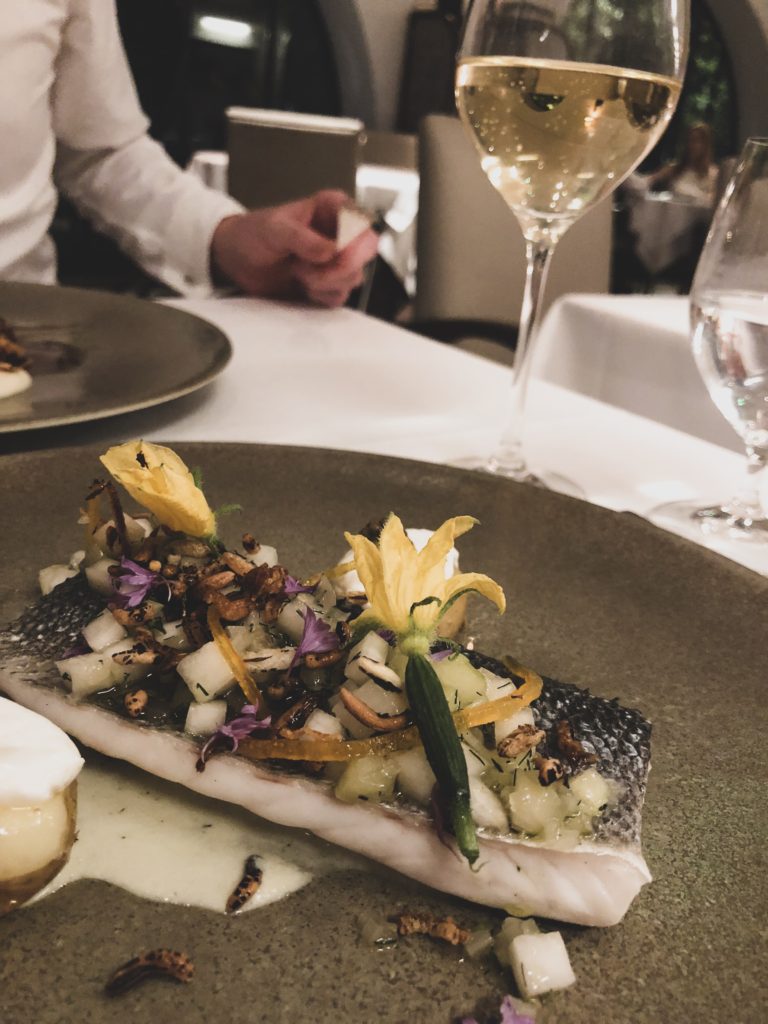 The seabass was not only gorgeously presented, but also had the taste to match. As for the steak…Melting in the mouth, full of flavour and perfectly cooked (mid to rear) – simple and to the point, so quintessentially French! Making you want-to-never-eat-anything-else-ever-again kind of good steak, for no other food would be able to match this flavoursome bite… 
…But then you also have to keep going.
I'm partial to a good dessert, but even I couldn't possibly resist the Orrery's cheese trolley. Hold my glass (and refill it) while I have a proper look and listen to the descriptions of each carefully selected cheese. We end up with a wheel of fortune. Everyone is a winner here, mon cherie.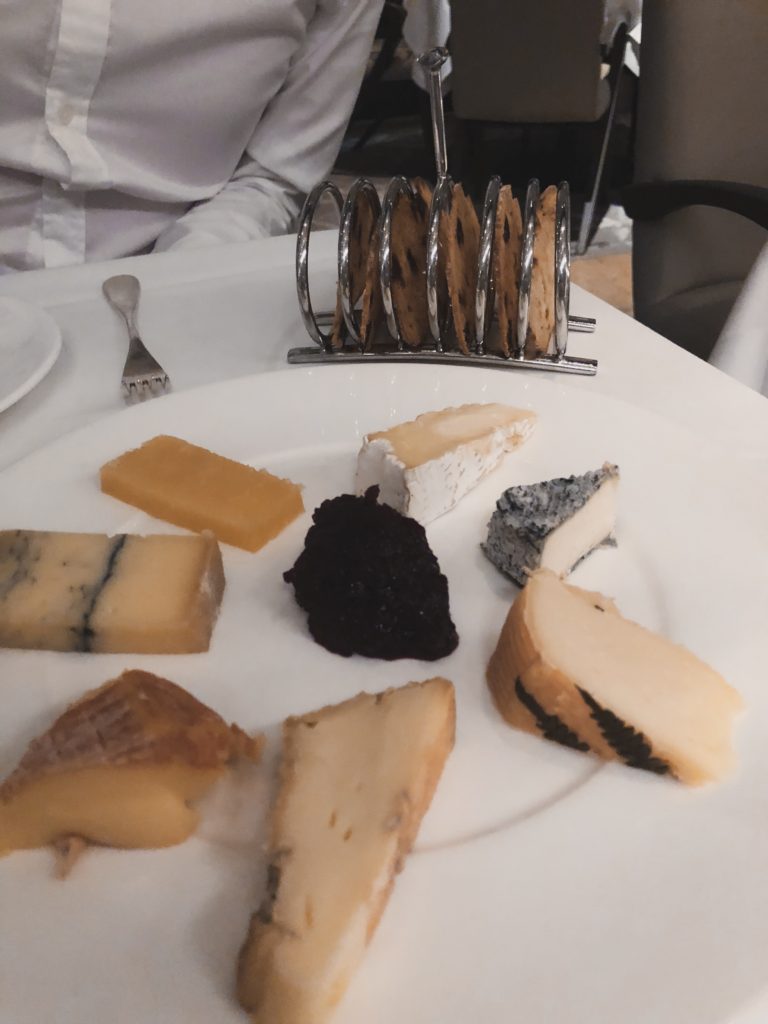 Head Chef Igor Tymchyschyn's Michelin-starred pedigree is shining though every dish. A visit here is a must for anyone who adores cheese, fine French cuisine or simply fine dining in the heart of London. You can go for the equally fab looking tasting menu as well. Personally, I would also return for a visit to the terrace!
What you need to know: the cheese trolley is award-winning. Have you even been to the Orrery if you haven't satisfied all your deepest cheese cravings?
Did I mention I was taken here for my birthday? Très bien indeed!