In a world paused by covid, grab your mates and head to a place that's all about the traditional stuff that we used to take for granted. A lively (albeit a socially-distanced) eatery with big tables and sunshine-yellow tones. Simple, fresh ingredients brought to life by hefty doses of golden olive oil. Moretti on tap and clinking glasses of wine peppering the air.
When it comes to that big traditional meal and the biggest comfort food craving known to men, we look back for guidance to one place: Italy.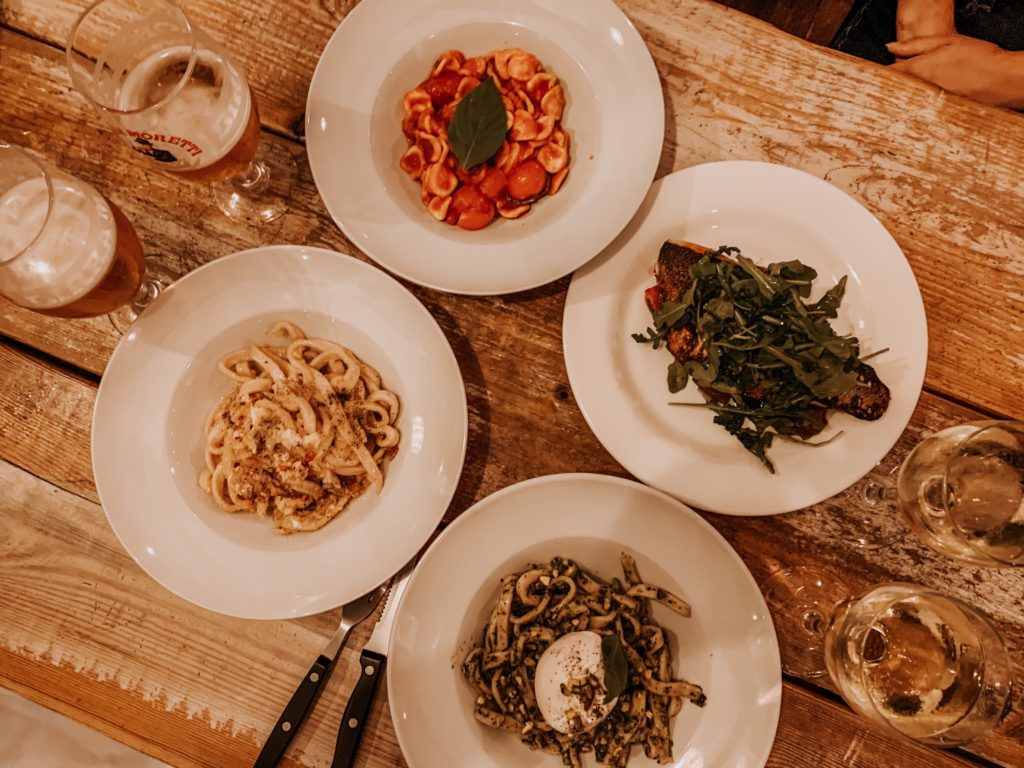 Meridionale ('from the south' from Italian) gorgeously decorates Fulham with its candy-stripped front, popping up against the backdrop of the grey buildings. Once inside, the atmosphere is just as promised by this candied exterior: light, lively, cosy and inviting. Evoking the sense of the south of Italy at every turn…and down to the dishes. From the Neapolitan pizza to the Sicilian caponata.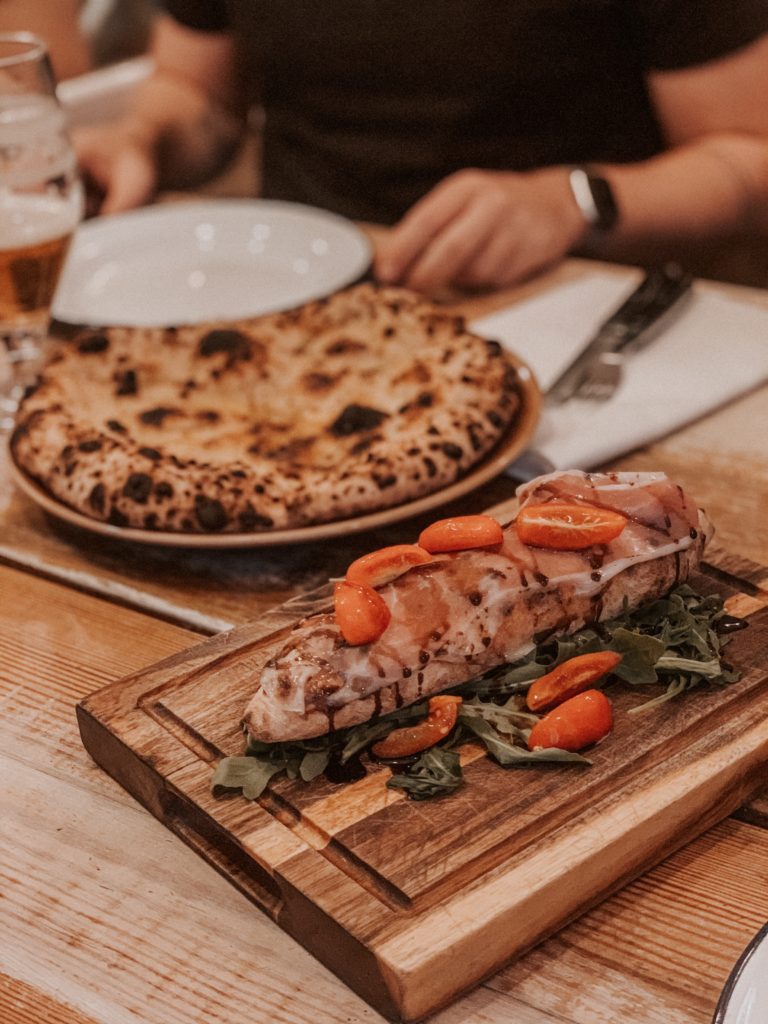 Drinks ordered, we were immediately drawn towards Tronchetto Parma & Bufala. Not unlike the popular (and my personal Italian soft spot) calzone, the stuffed focaccia is soft dough gently folded over some stunning buffalo mozzarella. This one was also topped with Parma ham and drizzled in balsamic glaze that added the sweetness needed to elevate the dish. This was love at first cheesy, doughy bite. One starter, one dish I already couldn't wait to desperately go back to.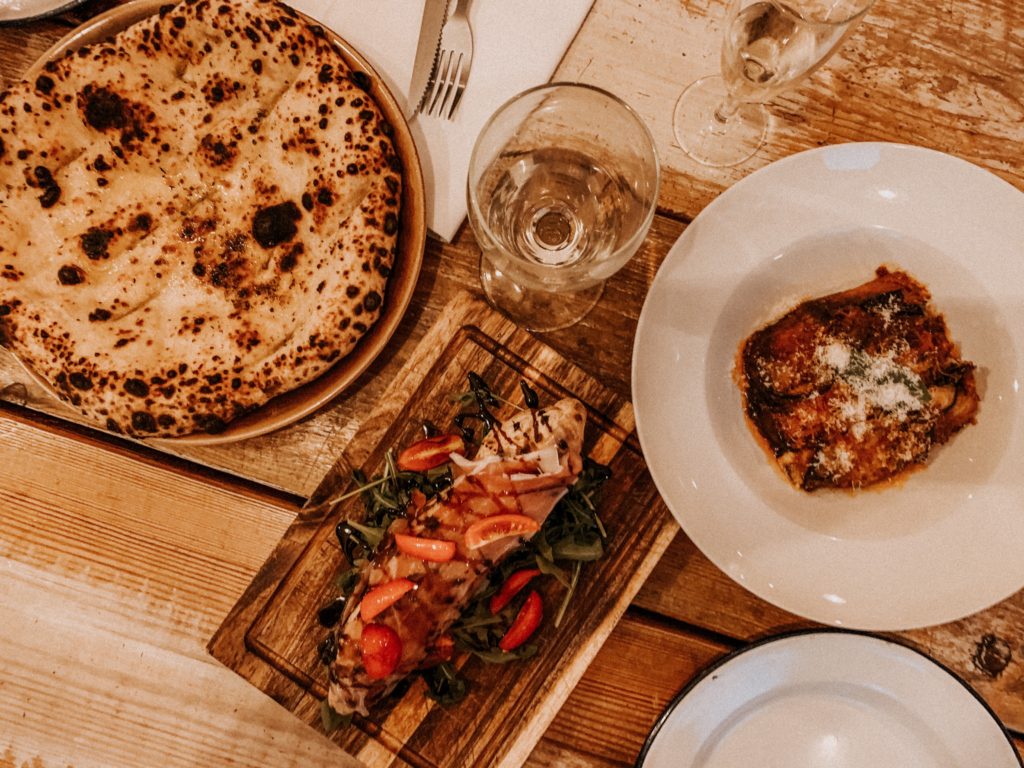 Speaking of seductive focaccia, we also sampled one drenched in truffle oil. You know I am not one to say no to the strong perfumed truffle and I wasn't going to start now. Focaccia Tartufata is your perfect starter in those exciting seconds before you delve into a rich, creamy pasta. (If you are going for pizza, may I suggest you begin your meal with either the burrata or Parmigiana de Melanzane?)
Scialatielli Pesto e Burrata
Think deliciously thick pasta transformed by basil pesto. The buttery, delectable pistachios make this dish all the more indulgent – a rich flavour I am consistently drawn to, the pistachio can make any dish a bit heavier which is why it needs a gorgeous companion…
Scialatielli is a type of short, thick pasta, mostly straight but slightly curvy. Originating from the Amalfi coast, it has quickly spread over other neighbouring regions such as Basilicate and Calabria.
And do we have an ideal partner for it here! A whole, big, white, creamy burrata is perched on top of the pasta and this is exactly what provides the perfect balance of flavour. A refreshing dip that calms down the intense nutty aroma. Why am I saying 'a dip'? Because I love to swirl that pesto-green scialatielli within the burrata. Melts on the tongue instantly. Stays on the mind forever.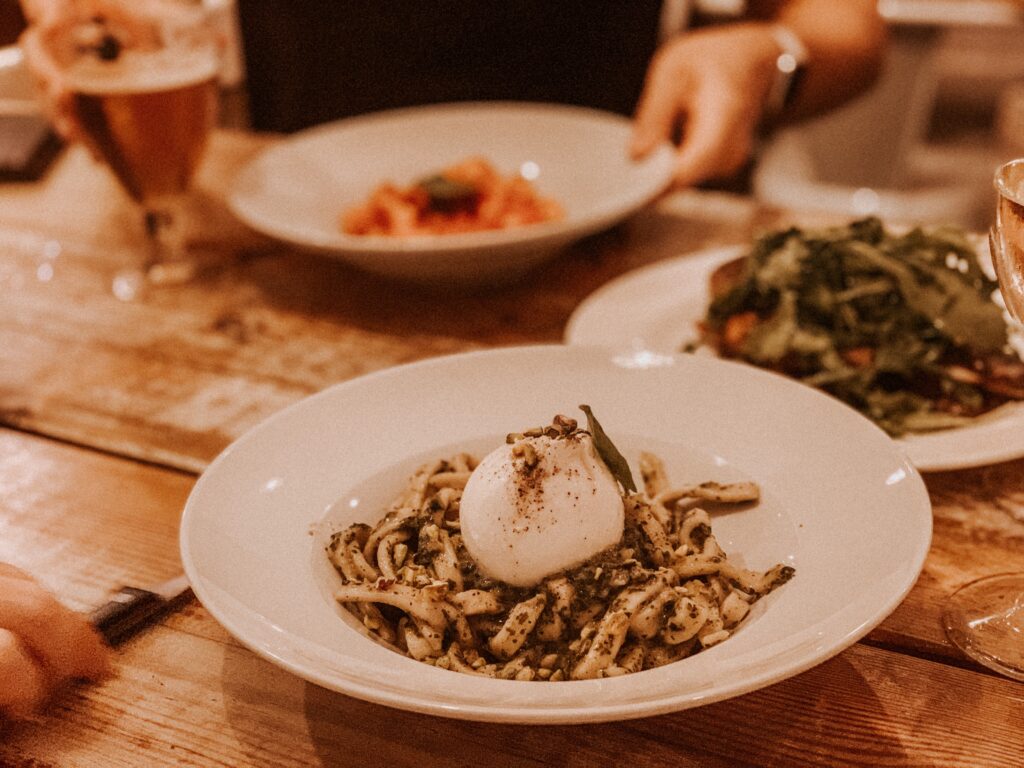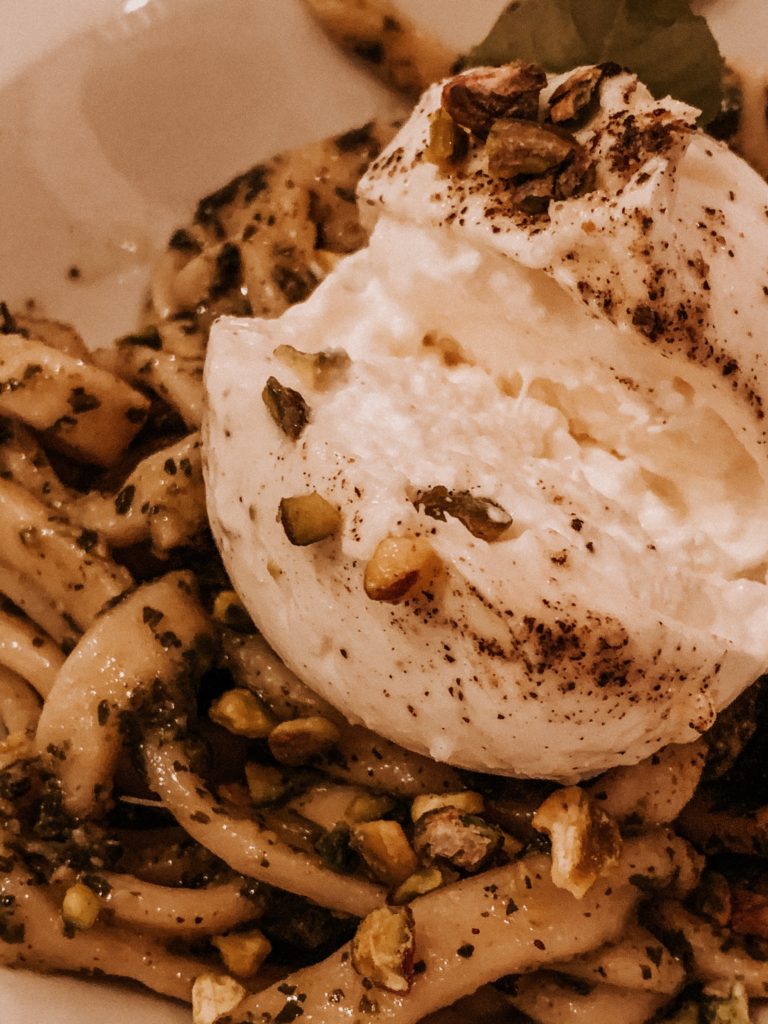 The Carbonara Napoletana is this sensational mixture of egg, garlic and chilli – no cream in sight, this is Italy! Yet just as creamy and gorgeous as you'd hope to find it at the end of your fork. Filling, dreamy and deliciously satisfying with a glass of Pino Grigio to the side.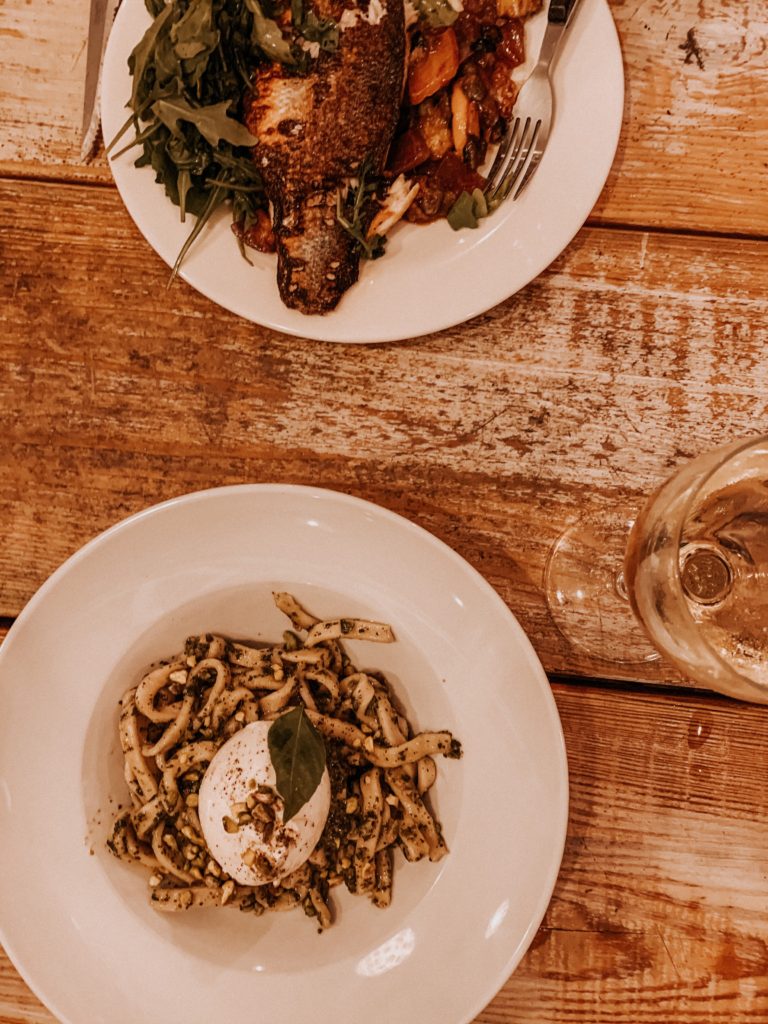 After all these carbs, it was time to reach out to something light, refreshing and…well, you know where I'm going with this.
What did I say about being partial to some pistachio? Never is this more true than when it comes to gelato. Reader, pistachio gelato is my ride-or-die. For us, it's everlasting love. A love story to write poems about. But I digress…
Affogato all`Amaretto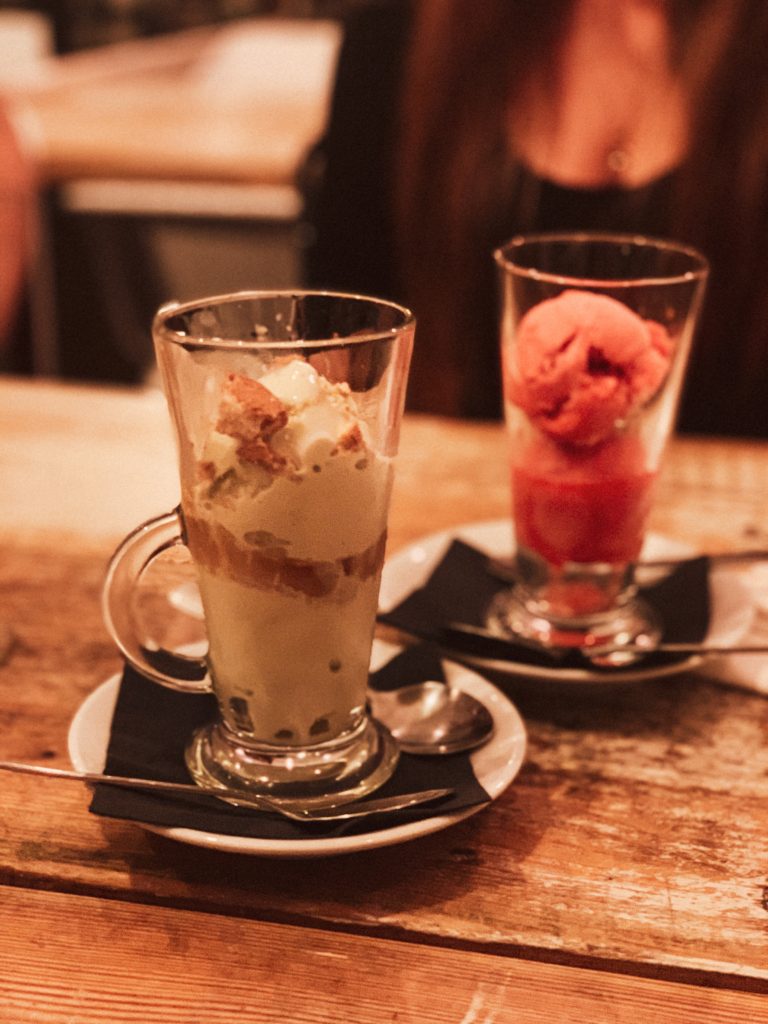 We've got that gorgeous pistachio ice cream served in Amaretto liquor and with crunchy amaretto biscuits cosily snuggled within it.
The pictures don't do it justice. This was the perfect end to the meal. And so was that light-as-rain raspberry sorbet.
But I lie. We also had a glass of Prosecco after the dessert too. I know, I know – you start with Prosecco, you don't end with it. But sometimes traditions are meant to be broken. *
*I still love limoncello.
Meridionale is currently open for dining in, delivery and take away. All the staff wear protective gear, social distancing is observed and there is plenty of hand sanitiser available.