Loads of eating, plenty of drinking and just the right amount of sightseeing.
September in New York. What a setting. Think sunshine and city heat, see Central Park and impossible skyscrapers, get all of that in abundance. With only one day of rain (but not the usual London rain that let's you get along with your day, rain in New York is unapologetic and loud, it strips you down to your core), we got pretty lucky with the weather meaning we walked everywhere. This allowed us to tick off quite a lot from our New York list, which could be tricky. How do you pack everything you want to see in a city as big as New York in just about seven days? I right about managed to do that.
But let's get to it. Here is my guide on how to spend seven days in New York…or at least, how I spent mine. Seven days in key New York sights.
When? September
How long? A week
Where did I stay? Midtown Manhattan
What's the weather like? Mostly sunny with a chance of vodka
Holiday type? Couples escape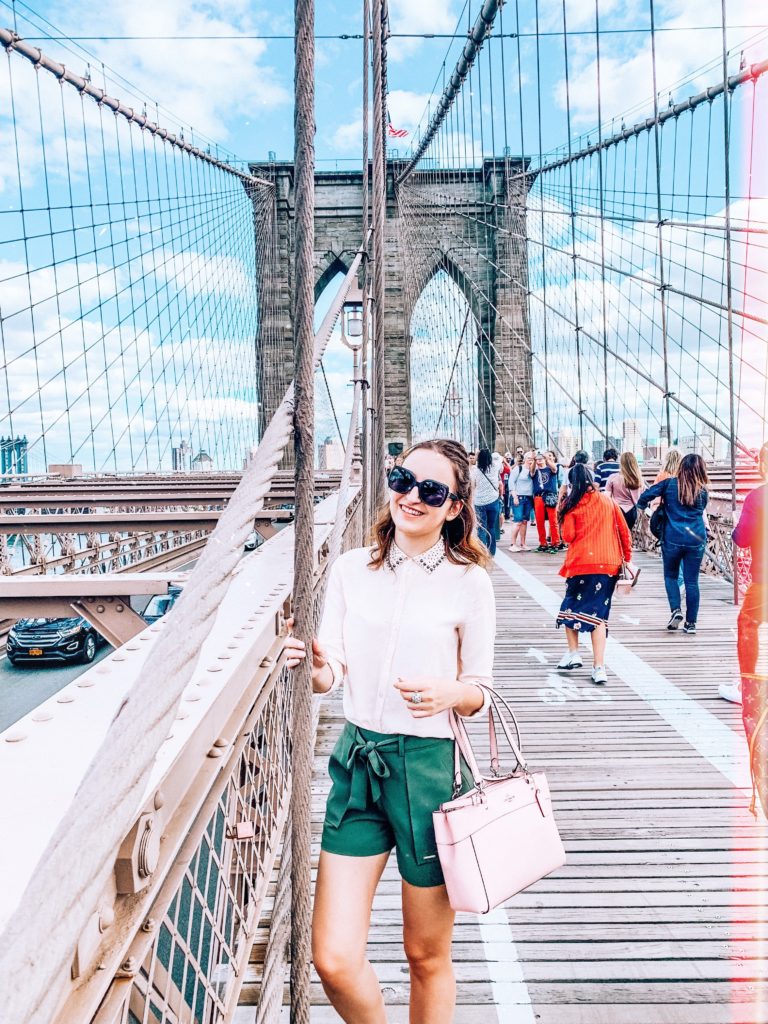 Day one: Flat Iron & Times Square
After travelling in style with BA, we dropped our bags off at our cute boutique hotel in Midtown Manhattan and headed straight out. Your first day is already a short one and you're just getting used to the jetlag, so best explore the surrounding area. Nothing too difficult to manage, just a slow stroll down the block taking it all in.
In our case we were staying very close to the Flat Iron building so we headed straight there, admired its architecture (ended up being one of my favourite things I saw in New York!), took the obligatory shots from across the street, and grabbed some coffee from a street vendor. Drank said coffee at the park, enjoying my first meeting with the ever so very chic New York City dogs. Walking like they own the place and stealing my heart one puppy-eyed expression at a time.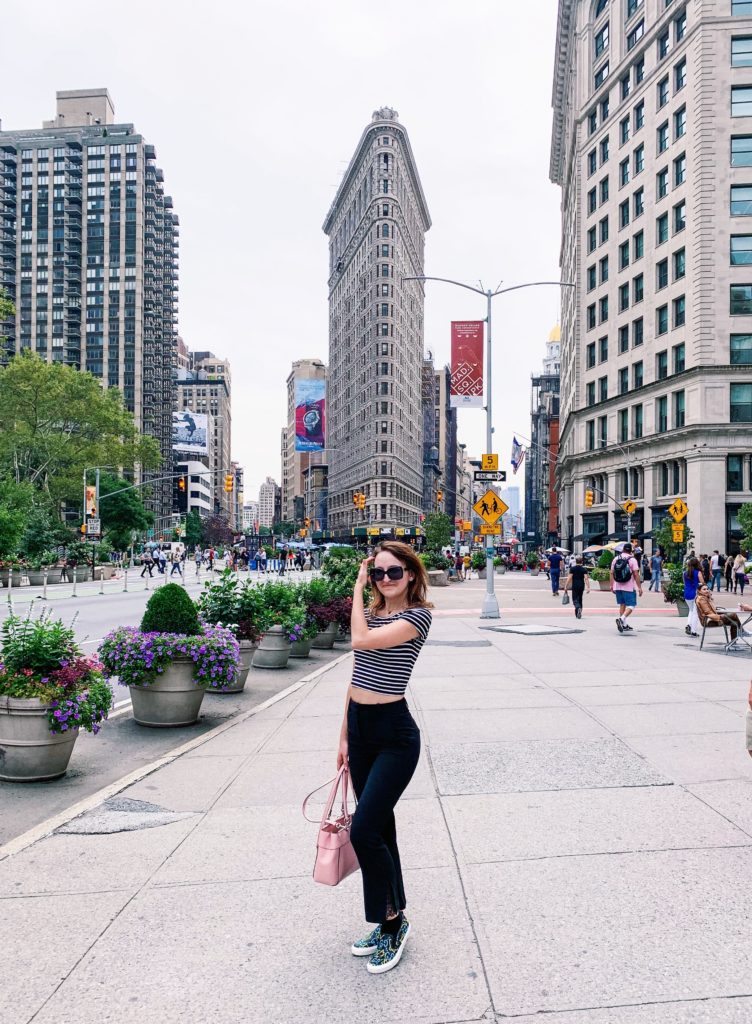 After grabbing some tacos and margaritas, and once the sun set, we headed to the one and only. You have to visit Times Square at night to get this quintessential atmosphere – it's super busy, super loud, super bright, super capitalistic. And it's surrounded by places to eat (tourist traps and otherwise) so you can grab a bite no matter how late it is too.
Day two: Grand Central Station, Central Park & The Met
Now, this was the first full day we had so we were keen to make the most out of it. It was also, the only day that was forecasted to rain. And by that we mean: proper, New York style rain (read heavy and non-stopping). If it rains during your New York stay, I'd suggest you do the same – hit the museums and anything you're interested in exploring that happens to be indoors (ahem, bars?).
We went to Grand Central Station in the morning – rush hour frenzy mixed with tourists trying to snap that perfect picture always make for an interesting scene. We grabbed some fine coffee and cream bagels and headed to Central Park (I wasn't that crazy to have my breakfast in the park drenched in water – this was well before the skies opened, while we were still enjoying some grey clouds from a distance). The park is huge, however, I did see the gorgeous Alice statue and I did some more cute dogs spotting on the way too. With the tall buildings watching over us it never felt like we've fully left the city, yet I felt like this is exactly what gives Central Park its very specific charm.
And while you're at this part of Central Park you might as well…
…visit The Met! Climb up those famous steps and discover centuries of art within its walls. Like the V&A on steroids, the Metropolitan Museum of Art is an absolute must: from its permanent collection to its fab exhibitions, there's a good reason this is one of the most visited museums in the world.
What was on when I visited:
Instruments of Rock&Roll
The Moon in the Age of Photography
Camp: Notes on Fashion (as seen at the Met Gala!)
Day three: 9/11 Museum & Brooklyn Bridge
Day three was an interesting one, a mixture of high spirits and heart-wrenching moments. After some of the best brunch I've ever had (Citizens of Bleecker, looking at you!), we headed down to the 9/11 monument.
Everyone remembers where they were at the time the towers collapsed, but here you see the tragedy from so many more viewpoints – the museum is almost an immersive experience with a timeline taking you slowly through the day's horrific events and completed with voice messages, telephone recordings and live news features. The museum undoubtedly offers quite the intense experience, taking you by the hand and immediately transporting you back in time to a day that changed the course of history…I'd whole-heartedly recommend visiting, but do keep in mind it could be quite emotionally exhausting.
…Needless to say, we needed a strong pick-up after that so we walked down the stretch of the island, had some frosé and ice cream, and then onto the next huge thing to tick off the list. It was time to cross Brooklyn Bridge.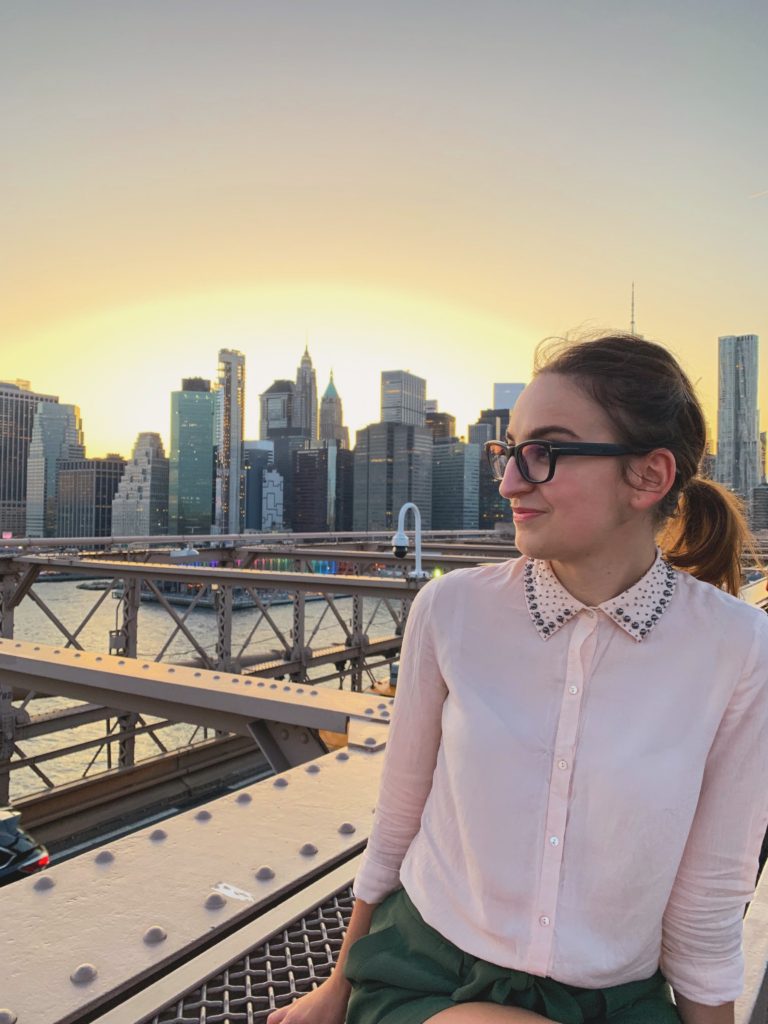 Incredibly busy and taken over by masses of people, this still is a great spot to visit for the views it affords of both Manhattan and Brooklyn are absolutely stunning. Especially if you're here at sunrise or, in our case, sunset! And once you cross it? Quirky Brooklyn will take care of you – from rooftop bars to the TimeOut market, there are fab drinks and delicious bites to be had.
Day four: The Mets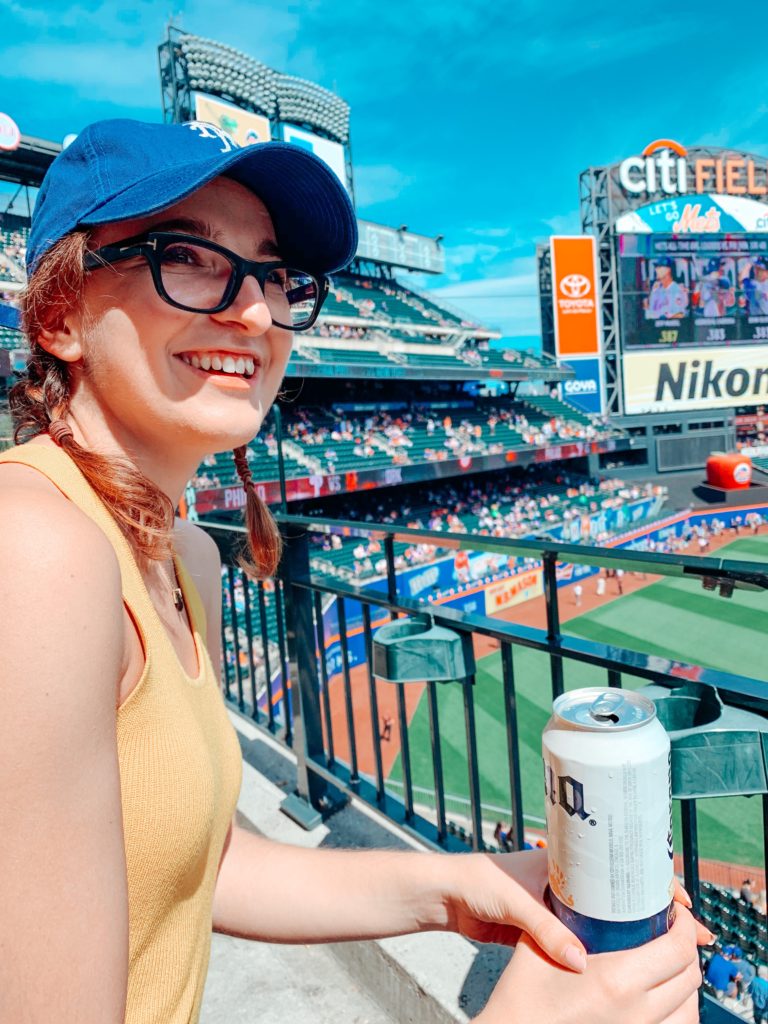 From the Met to the Mets, New York has both culture and sport aplenty. And I, sure as hell, wasn't leaving before sampling both. When in the US, Sundays are for sports, right?
So, day four was all about baseball – all theme songs, huge hotdogs and blue caps. This felt so quintessentially American, that the moment we arrived I knew it should definitely be on everyone's list when going on a US holiday. Pick the sport, get the tickets, make a day of it.
Day five: Empire State Building, Rockefeller Centre, American Museum of Natural History & The Plaza
I know, could we BE any more touristy?
Well, when you want to see a lot of things in one week, you've got to get good at planning. For us, it made sense to get all the great city views in one day, so visiting both Empire State and Top of the Rock one after the day made the most sense – plus, they are a walking distance from each other.
Top tip: visit first thing in the morning to avoid the massive crowds that are bound to be incoming.
We managed to climb up to the top decks of both buildings by midday, allowing us plenty of time to get to the American Museum of Natural History. Here, I have to highly recommend any of the pre-historic rooms – all about dinosaurs, all about Ross.
And what could be better after a day filled with sightseeing than relaxing with a couple of cocktails at The Plaza bar?*
*The answer is nothing. Nothing is better.
Day six: Katz's Deli & all day shopping
Can you tell it was time for us to take it easy? We started our sixth day in New York the right way: each of us with a huge portion of a deliciously filled sandwich at Katz's Deli, immortalised by When Harry Met Sally amongst others.
Yes, you read that right: a sandwich each! Like amateurs. Proper tourists. Locals were probably laughing at us and our eagerness to try the famous pastrami/corned beef/insert meaty goodness of choice here. Reader, I have never been this full after breakfast. And I love my breakfast. I don't know how Sally did it, but I can see what was so great about it.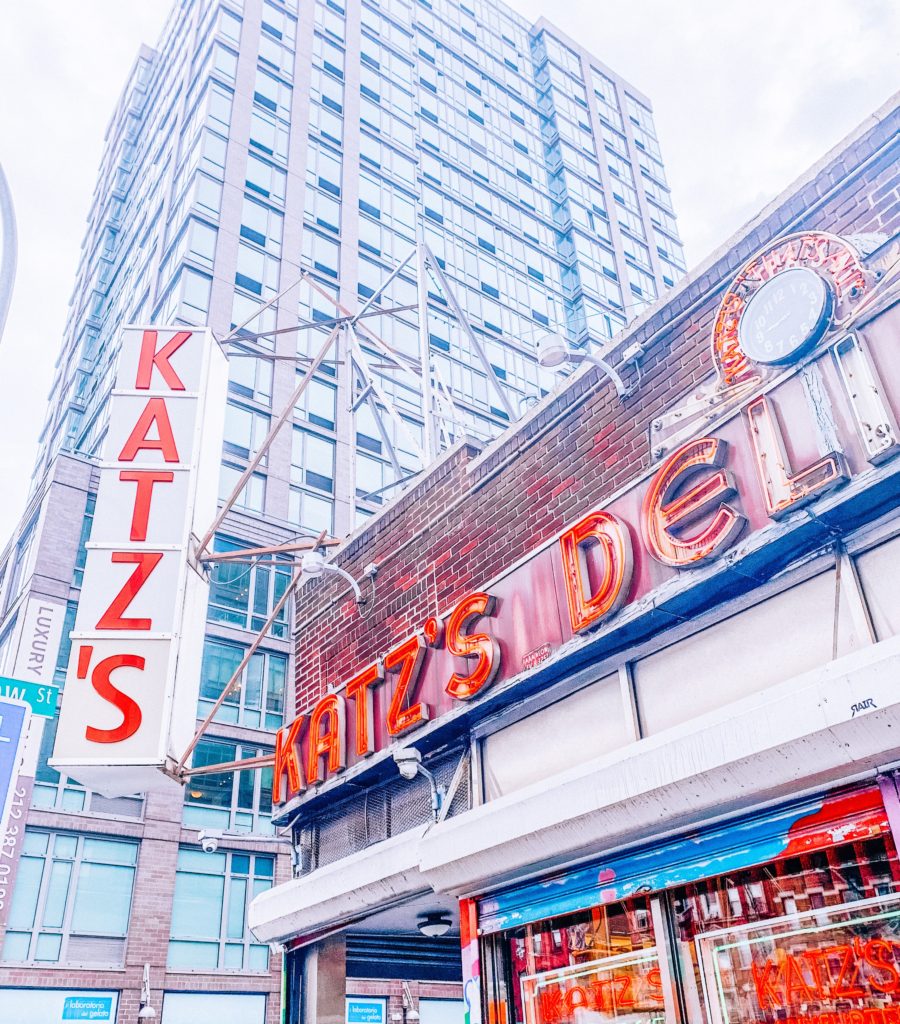 The only thing we managed to do after was walk for ages through SoHo and do some shopping at Macy's. Rachel Green would approve.
Day seven: Broadway
Or as I call it, one of the best days of my life.
Started with a massive portion of American pancakes and plenty of delicious black coffee to get us going, and after that, it was all about one boy and one boy only…
For it was time to see 'Harry Potter and the Cursed Child.' Darlings, believe me when I say that I had no idea I was about to see this. I never managed to get my hands on the tickets in London and never would have I guessed that my man got us surprise tickets to see it in New York. How well he knows me, how great that was.
The experience was (you know I'm going to say it) nothing short of magical. The whole theatre was turned into an exclusively Harry Potteresque space down to every detail – no galleon was spared indeed.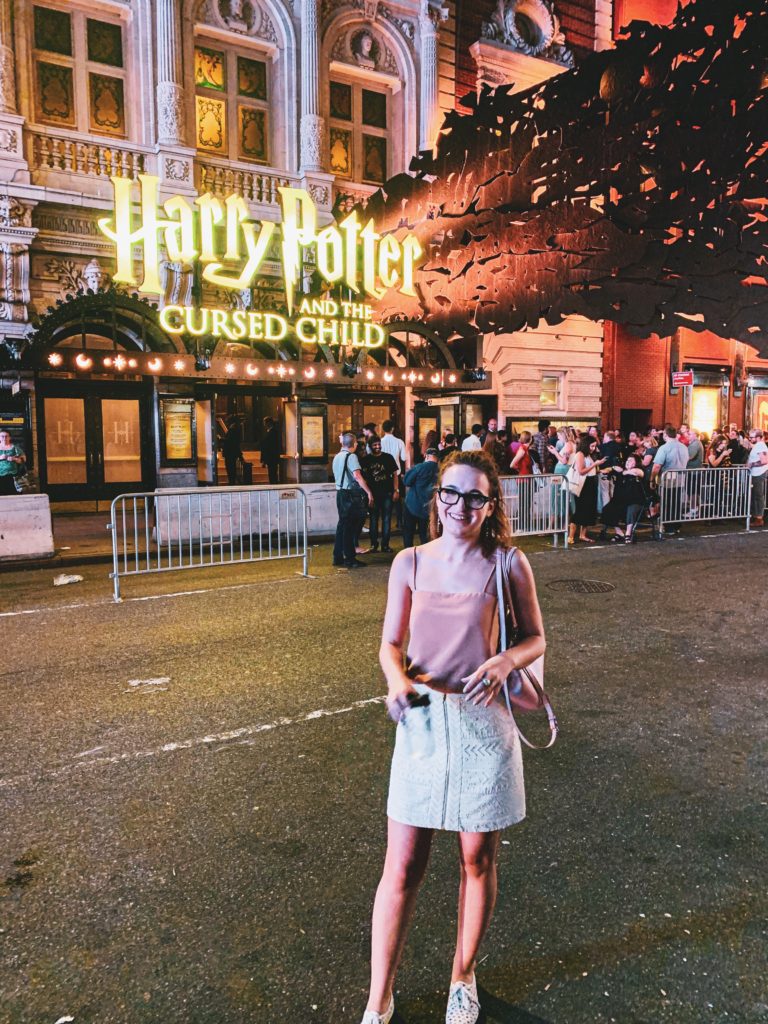 And the play itself? I've sworn the unbreakable vow that I will keep the secret, but I can say this much: it filled my Potter-heart with joy. The actors were great and the effects didn't fail them for a minute; from laugh-out-loud moments to tear-in-my-eye scenes, it felt like a journey back to Hogwarts after all these years.
The frosé I had from the theatre bar also helped for that.
Day eight: sadness
Yes, I said a 7-day guide to New York and this is what you get. On day eight, we had time for breakfast, a final walk down those famous blocks endlessly walked by Carry Bradshaw before that, and a final cocktail each. Then back to JFK it was. Phone full of pictures, stomach full of cheese, head dizzy from a new-found frosé addiction, and a heart that will never be the same again.
Don't be a stranger: have you been to New York yet?